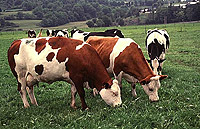 Produits laitiers bio
Offres de vente
Pour identifier la société, cliquer sur le numéro de l'offre
Offre N°
Catégorie
Certification
Origine
Produit
Validité de l'offre
Date de l'offre
89658
Produits laitiers
Other
Serbie
Lait écrémé ou poudre
2020-10-10
2019-09-12

Description

: Skimed or whole organic milk powder
91862
Produits laitiers
Other
Irlande
Fromage
2020-10-04
2019-05-14

Description

: One of our top sellers for cheese lovers, winner of a Great Taste Award, Silver at the World Cheese Awards, Bronze at the French Cheese Awards - Brewer's Gold is a semi soft rind washed cheese which is made using Organic cow's milk and hand washing the rind in Irish Craft Beer. Rubbing it with beer promotes the growth of a bacterium, this breaks down the texture of the cheese, turning it soft and pliable rather than firm. The rind can be sticky the taste is rich, nutty, creamy and sweet.

The cheese as a result is rich and creamy, with subtle hoppy flavours, and a bright amber rind. But beware this also makes it stinky - in a good way, cheese lovers can't get enough! This cheese sometimes grows a green mould sometimes a white bloomy mould, this is perfectly normal and is actually a good sign the cheese is maturing well, just wipe it off with a damp cloth. Brewers Gold is great for cooking also.
91863
Produits laitiers
Other
Irlande
Fromage
2020-01-01
2019-05-14

Description

: Organic Irish Vintage Cheedar
Gold winner at the Frech Cheese Awards, The Little Milk Co Vintage Cheddar is made from raw unpasteurised milk which has not been exposed to the heat treatment required for full pasteurisation and therefore retains more of the natural flavours and nutrients present in the milk used to make it. This is a complex cheese and has aromas which linger longer in the mouth.

This cheese has been aged for up to 18 months, with less moisture than younger cheddars leaving a concentration of protein and fat. Its aging makes it a hard dry cheese which is full of character, but it really needs to left out of the fridge unwrapped for an hour to get to an ambient temperature of around 11 degrees celcius - the taste difference is worth the wait! The dry crumbly texture of this cheese makes it perfect for grating as a parmesan alternative or cooking in dishes like Gratins. When enjoying on a Little Milk Company cheese board, the strong flavour of this cheese makes it great for eating towards the end! Cut in thin slices to let it melt in your mouth.

Our Vintage wheels are 2.5kg from which any size wedge can cut to customer's requirements, 120g pre packs are also available.

Thinking about wine? This cheese pairs well with full bodied reds like Cabernet Sauvignon and Malbec, an Oak Smoked Chardonnay and great with Port or whiskey! Winner of the Gold medal at the Mondial du Fromage in France 2015.

This cheese is not safe to eat when pregnant. Its rind is made with animal rennet so also not suitable for vegetarians.
71176
Produits laitiers
Sativa, Desenvolvimento Rural Lda
Portugal
Fromage
2020-02-15
2019-03-27

Description

: Organic Goat Cheese - Herdade do Escrivao - 400g - Box of 12 units.

Origin: Castelo Branco - Portugal

Organoleptic characteristics: cheese aroma and taste rustic and intense, denoting power plant predominantly (extensive) livestock.


Form: bass drum, regular, with bulging sides and a bit on the upper side, without sharp edges.

Crust: Consistency - malleable, allowing some fluctuation. Aspect - full, shapely, smooth and thin. Color - Bright straw-yellow, uniform

Massa: Consistency - is slightly buttery. Color - white uniform.

Ingredients: Raw Milk Goat (Charnequeira) Rennet and Salt

Presentation: Cheese wrapped in greaseproof paper, with the label on the top, and EAN13 barcode on the side, where it is mentioned lot and expiration date.

The expiry date is six months after shipment.

Nutrition Facts average values ??per 100g of cheese:

Protein 17.50 g

Fat 31.15 g

Carbohydrates 2.01 g

Calories 358.4 kcal. 1484 or KJ

The amount of fat in dry stratum is 56.84%.
83380
Produits laitiers
Other
Great Britain (UK)
Yaourt
2020-12-02
2019-03-25

Description

: Organic Yoghurts
60284
Produits laitiers
Australian Certified Organic
Australie
Yaourt
2020-05-10
2019-03-25

Description

: Natural Yogurt
Low Fat Yogurt
Fruit Yogurt
Bush Honey Yogurt
Dessert Style Yogurt
Indulgence Range
60285
Produits laitiers
Australian Certified Organic
Australie
Autres produits laitiers
2020-04-04
2019-03-25

Description

: Full Cream Milk (3.8%)
Reduced Fat Milk (2.5%)
Zero Milk (0.1%)
60286
Produits laitiers
Australian Certified Organic
Australie
Fromage
2020-05-10
2019-03-25

Description

: Soft and Hard Cheese

Gouda, Swiss-Style, Cheddar

Brie, Camembert, Nuage Blace (blend of Brie and Camembert)
60287
Produits laitiers
Australian Certified Organic
Australie
Beurre, crème
2020-03-27
2019-03-25

Description

: Unsalted Organic Butter & Cream
84370
Produits laitiers
Soil Association Certification Ltd
Royaume Uni
Autres produits laitiers
2020-02-02
2019-02-25

Description

: Butter
AMF
Butteroil
Cream
Skimmed Milk Concentrate
Whey concentrate
Whey Protein Concentrate 35 %
Organic milk
Organic cream
Organic butter
Skimmed milk Powder
96441
Produits laitiers
Other
Espagne
Oeufs
2020-03-03
2018-10-17

Description

: Organic eggs
96440
Produits laitiers
Other
Espagne
Autres produits laitiers
0000-00-00
2018-10-17

Description

: Organic milk
84088
Produits laitiers
Other
Etats-Unis
Lait écrémé ou poudre
2020-11-21
2018-09-19

Description

: CERTIFIED ORGANIC WHOLE MILK POWDER
Description
Whole milk powder is obtained by the removal of water from pasteurized whole milk. It contains no more than 4.5% moisture (by weight) and not more than 30% milkfat (by weight) unless otherwise indicated.

Ingredients
Organic Whole Milk.

Packaging
50 lb multiwall Kraft paper bag with polyethylene liner.

Storage & Shelf Life
Store at 50-80 degrees F, less than 65% relative humidity. Recommended shelf life under such conditions is 6 months.
77541
Produits laitiers
California Certified Organic Farmers (ccof)
Etats-Unis
Beurre, crème
2020-01-01
2018-08-14

Description

: We are pleased to offer these alive and organic nut butters:

Almond Butter
Cashew Butter
Pistachio Butter
Tahini

If you are interested, please call +1.510.526.7106 or visit our website:http://www.livingtreecommunity.com to gain a concept of our work.

Thank you,

Living Tree Community Foods
93291
Produits laitiers
Other
Afrique du Sud
Lait écrémé ou poudre
2019-01-01
2017-11-06

Description

: We supply South African produced camel milk
The perfect alternative to dairy and almost as good as mother's milk!

Camel milk has more Vitamin C, B6, Iron, Calcium, Magnesium and Potassium than cows milk, and is lower in lactose! Camel milk contains natural antibiotics which keeps the milk fresher for a longer period.