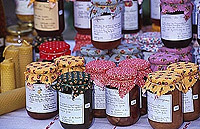 Buy organic Commodities
Offers to sell
To obtain the company's identification, click on the offer number.
Offer N°
Category
Certification
Origin
Product
Validity
Date offer
98254
Commodities
Other
Perou
Cocoa, chocolate
2020-01-01
2019-10-01

Description

: Cacao Nibs
100% Cacao beans from Peru.

13,440kg splited in 14 pallets.

In Valencia (Spain)Ready to direct consumption.

Process: Selection and classification of cacao beans, rinse and organic sanitization, drying, breaking and peeling, selection and packing.
58680
Commodities
Other
Belgium
Cocoa, chocolate
2020-03-07
2019-09-12

Description

: High quality organic Belgian Chocolates

BARS 50gr,flavours : plain,Orange,Green Tea ...
NEAPOLITAN 8,5gr & 3gr different flavours
HOT CHOCOLATE different flavours
FONDUE flavours

PRALINES assortment
TRUFFLES : cocoa, coffee,...
92114
Commodities
Other
Perou
Coffee & substitutes
2021-01-01
2019-08-13

Description

: Nous vendons du café Arabica certifié bio et commerce équitable, directement de l ágriculteur, sélectionné á 14 défauts, avec un rendement sur tasse de 84 á plus .

Nous avons une capacité de production pour justifier une demande abondante.

De même, nous vendons du café frais torrefié sur place traditionnellement pour différentes types de cafetiéres, pour boutiques spécialisées petit agriculteur, artisanale et cafétéria. Produit de marketing .
66476
Commodities
Other
USA
Cocoa, chocolate
2020-03-23
2019-07-18

Description

: Fairly Traded Organic's sugar operations have been producing organic certified raw sugar cane in Paraguay South America since 1994 and the mill is the oldest continuously operating organic sugar mill in the world. Our mill is also one of only 3 in the world to produce sugar that is both organic and Fair Trade certified.

All of our organic raw cane sugars and sugar products are GMO-free and are certified organic under USDA/NOP, JAS (Japan), EU 2092/91, and Bio Suisse (Switzerland) standards and regulations. All of our sugar products are also Kosher certified and can be Fair Trade certified.
97940
Commodities
Other
Ivory Coast
Cocoa, chocolate
2020-06-01
2019-07-13

Description

: je vend des produits tel que le cacao le beurre de cacao le cafe le coton le mais
90103
Commodities
O.i.a.
Argentina
Sugar
2020-12-31
2019-06-26

Description

: we offer organic cane sugar produced in the north area of Argentina, Salta.
This product is certified locally by SENASA and OIA. Also, to be export are certified by EUREPGAP - USDA - NOP - BIOSUISSE and JAS.
The organic cane sugar is exported in bags og 25 each one or Big Bags of 1 Tn with the mark in the front of the bag.

FOB VALUE: USD 750/TN.
76526
Commodities
Other
Colombia
Coffee & substitutes
2020-12-12
2019-06-05

Description

: Producción - desarrollo de cafés especiales con denominación de origen Huila - Colombia.
Industrialización de tres lineas de cafés con notas cítricas -acarameladas y achocolatadas.
Conformamos asociaciones de caficultores certificados con Raint Foresta- C4 y denominación de origen.
productos:
1. Café verde almendra
2.Café grano tostado para la industria Horeca
3. Café tostado molido para el comercio Retail
79880
Commodities
Other
India
Coffee & substitutes
2020-01-05
2019-06-05

Description

: Organic Arabica Coffee Powder
Organics Robusta Coffee Powder
Organics Green Tea
Organic Black Tea
Organic Orange Pekoe
Organic Earl Grey
Organic Tulsi Tea
Organic Rose Tea
Organic Flavoured Teas
90445
Commodities
Other
Madagascar
Coffee & substitutes
2020-12-31
2019-05-14

Description

: Nous sommes collecteur et vendeur de fève de cacao, café Robusta et Arabica, vanille bourbon Made in Madagascar.
68336
Commodities
Other
India
Sugar
2020-05-20
2019-04-17

Description

: White Cane SUgar
91935
Commodities
Other
Myanmar
Coffee & substitutes
2020-12-31
2019-04-03

Description

: DRIED PROCESS METHOD
92164
Commodities
Other
Myanmar
Coffee & substitutes
2020-05-05
2019-04-03

Description

: Karen coffee is nature product from Karen state of Myanmar. It is naturally grown on the deep slopes of mountain preserving rain forest and soil. Robusta is mainly grown and Arabica is grown very few percentage in this area. Karen coffee is farmed, roasted and grinded by the ethnic women group in the area and Sabanan makes packaging in Yangon as value add. It is the part of women empowerment program and support livelihood of Karen women in the area. Some percentage of net profit from Karen coffee will be shared to those women group for their empowerment program. This product will help over 20,000 peoples from 30 villiages of Than Daung Gyi villiage track area, Karen State, Union of Myanmar. Sabanan provide Green label for Robusta and Red label for Arabica. Coarse ground and Fine ground coffee are available for 100 g and 200g. Green bean for Export market. If you have interest to support ethnic women or to get natural organic products, please feel free to contact us
82677
Commodities
Other
Perou
Coffee & substitutes
2020-02-15
2019-04-03

Description

: -Cafe arabica
-Café Organico ( bio )
-Café Robusta
74459
Commodities
Other
Switzerland
Sugar
2020-01-01
2019-03-25

Description

: We are pioneer in the area of organic sugar:

- SYRAMENA® the world's first organic raw cane sugar
- SUCANAT® is the world's first organic whole cane sugar
- organic white cane sugar
84951
Commodities
Other
USA
Tea
2020-01-01
2019-03-25

Description

: Arbor Teas is an online retailer of USDA NOP organic certified loose leaf tea. We sell to customers in the USA and Canada.