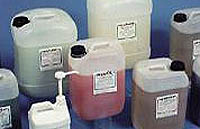 Buy organic Cleaning & hygiene in a sustainable way
Offers to sell
To obtain the company's identification, click on the offer number.
Offer N°
Category
Certification
Origin
Product
Validity
Date offer
57562
Cleaning & hygiene in a sustainable way
Soil Association Certification Ltd
United Kingdom
Consumer cleaning & hygiene
2019-12-31
2017-02-01

Description

: Ecosoapia Hand & Body Wash is a range of 100% organic (soil association certified) liquid soaps made from the purest natural
ingredients using organic oils and plant extracts. Available in seven scents, all products will smooth and condition your whole
body, whilst being completely free of any chemicals, toxins or harmful preservatives.

As a product which is used regularly, it is essential to use a body wash which helps regain skins' moisture and is kind to skin. The
absence of nasty chemicals that are found in much soap and the subtle scents make Ecosoapia ideal for frequent use. Offered in
minimal packaging, the soaps are an affordable, everyday luxury.

The range includes seven varieties:
- Almond is for those with a sweet tooth. The warm, sweet and sensuous scent is perfect for anytime
- Eucalyptus can be used to clear heads. It will give a lighter and brighter start to the day
- Lavender is the most relaxing scent. Its calming properties will enable a good night's sleep if used before bedtime
- Peppermint is a fresh and clean scent which will help in giving that extra kick in the morning
- Rose Geranium is purifying and calming, the traditionally English scent is the ultimate feminine luxury
- Tea Tree includes antiseptic and antibacterial oil which will wash away all germs whilst leaving skin soft and smooth
- Unscented is for those with especially sensitive skin. Free from essential oils, it will keep skin silky without giving any
irritation

Ecosoapia uphold their environmentally friendly philosophy by using minimal packaging and donating 10% of all profits go to
Iracambi (registered charity) to help conserve the rainforest. Ecosoapia has also been included in the 'Good Shopping Guide'
which only promotes ethical products and companies.
66340
Cleaning & hygiene in a sustainable way
Other
India
Consumer cleaning & hygiene
2018-08-14
2017-01-16

Description

: We manufacture a range of Soaps, creams, scrubs and lip balms high up in the Himalaya's. Sustainably manufactured using the classic cold process method. Each bar of soap is hand cut and for two months cured in the pure himalayan air and individually packed. No artificial color or preservatives.
88732
Cleaning & hygiene in a sustainable way
Other
India
other Cleaning & hygiene in a sustainable way
2018-12-31
2016-11-10

Description

: Wet Bee venom :
Apitoxin, or honey bee venom is a bitter colorless liquid. Its active portion a mixture of proteins (Enzymes), peptides, Biogenic amines, Amino Acids sugars, Volatiles (Pheromones) and Minerals. Venom is quickly dried when extracted from honey bees. The mixture of proteins, which causes local inflammation and acts as an anticoagulant. A honeybee can inject 0.1 mg of venom via its stinger.
Hole Dried Bee Venom(Crude venom):
Honey Bee Venom is a colorless fluid It becomes a white powder like material after drying, if it is protected from oxidation. If it is not protected from oxidation the color will change from white to brownish yellow. Changes caused by oxidation may decrease its healing effect.
Medical grade Bee venom(Lyophilized):
In Order to get Purified bee venom, SP Organic EVA followes Purification and lyophilization Procedure to eliminate all Contaminants and preservation protocol to protect from moisture and light which can be stored for five years or more. It will not lose its toxicity. It is widely used in creams, liniments and ointments. In a tablet form, it can be used to prepare venom solution for electrophoresis or ultrasonophoresis applications. It is easy to sterilize with syringe filtration.
88723
Cleaning & hygiene in a sustainable way
Other
France
Professional cleaning & hygiene
2018-02-02
2016-11-10

Description

: Gammes de textiles de nettoyage, nouvelle génération, brevetées, particulièrement efficaces, pour l'absorption des salissures par capillarité, le récurage et efficaces dans 80 % des cas sans agent chimique.
Nos solutions sont couplées, lorsque cela est nécessaire, d'une gamme de produits nettoyants Eco Plus, désinfectants, agréés agroalimentaire.
58629
Cleaning & hygiene in a sustainable way
Ecocert
France
Consumer cleaning & hygiene
2018-04-20
2016-11-07

Description

: Natural Soaps (ECOCERT/USDA Certified) CosmeSoap specializes in vegetable based soaps for spas, thalassotherapy centers, and beauty and aromatherapy institutes. Our natural soaps can be customized using essential oils (sweet almond, ylang ylang, and evening primrose oil etc.), plant extracts ( lavender, geranium, green tea, ginkgo biloba, seaweed, etc.), as well as with grape or orange extract. Natural ingredients such as honey, shea butter, and clay can be used to create soaps with detoxifying, exfoliating, hydrating, or massaging qualities depending on your specific needs.
71778
Cleaning & hygiene in a sustainable way
Other
Ecuador
other Cleaning & hygiene in a sustainable way
2018-10-05
2016-10-03

Description

: Products for domestic pest control, non-toxic to humans and pets.
Putty kills cockroaches, flies Tale Freshener, Incense Palo Santo, to scare away mosquitoes and mosquitoes.
These products are friendly to the ecosystem, are leading 22 years in the Ecuadorian market and another 8 in Peru.

Productos para el control de plagas domesticas, no tóxicos para el ser humano y animales domesticos.
Masilla mata cucarachas, Espanta moscas ambientador, Incienso de Palo Santo, para espantar mosquitos y zancudos.
Estos productos son amigables al ecosistema, tienen liderando 22 años en el mercado ecuatoriano y otros 8 en Perú.
72135
Cleaning & hygiene in a sustainable way
Other
Italy
other Cleaning & hygiene in a sustainable way
2018-12-18
2016-10-03

Description

: Special certified bio-organic products for the particular sensitive skin of babies.


Each formulation has been designed to guarantee maximum tolerability even for the most sensitive complexions. BIO-BIO BABY is a range of products especially designed to help mothers pamper and protect the skin of their babies naturally, thanks to the careful selection of active plant ingredients well-known and highly appreciated for their curative properties. Each product has been formulated using top quality raw materials and organic plant extracts, strictly observing the product specifications for ecological Biocosmetics laid down by AIAB (Italian Association for Organic Agriculture) and ICEA (Institute for Ethical and Environmental Certification).
Each product belonging to the BIO-BIO BABY line has been submitted to the ICEA committee which has assigned it a certification number.
86818
Cleaning & hygiene in a sustainable way
Other
Spain
Consumer cleaning & hygiene
2018-02-02
2016-06-22

Description

: COMPOSITION : 5 - 15% : savon (soap), agent de surface anionique (anionic surfactant), <5% : agent de surface non ionique (non-ionic surfactant), potassium sorbate.
72920
Cleaning & hygiene in a sustainable way
Other
India
Professional cleaning & hygiene
2017-06-12
2016-01-27

Description

: 100% organic solutions for cleaning and sanitizing. CLEANECO is completely organic multi-purpose cleaner with unique 3 - in - 1 formula, with cleansing, deodorizing and insect repellence properties. CLEANECO is completely safe, ecofriendly and is an excellent replacement of hazardous and unsafe chemical cleaners, bleaching agents and allergic insect repellents
84177
Cleaning & hygiene in a sustainable way
Other
Syria
Consumer cleaning & hygiene
2020-10-10
2016-01-13

Description

: Natural y biodegradable, el jabón negro líquido multiusos Najel, cuyo único ingrediente es el aceite de oliva saponificado, sustituirá a todos tus productos de limpieza del hogar.

Este producto único e indispensable se utiliza para toda la acasa, proteger las plantas del jardín y lavar los animales domésticos.
84176
Cleaning & hygiene in a sustainable way
Ecocert
Syria
Consumer cleaning & hygiene
2020-10-01
2016-01-13

Description

: Es el auténtico jabón de Alepo en formato líquido, adaptado para pieles secas, sensibles o irritadas.

Su nuevo frasco PET color ámbar le proporciona una protección eficaz contra la luz y los rayos del sol.

*Cosmético Natural y Ecológico certificado por Ecocert Greenlife
83296
Cleaning & hygiene in a sustainable way
Other
Brazil
other Cleaning & hygiene in a sustainable way
2017-08-30
2015-11-26

Description

: Organic Technology Company, green chemistry, produces blends with objective is to develop natural and biodegradable cleaning products - compared to the chemicals present in the current market
83088
Cleaning & hygiene in a sustainable way
Other
Turkey
Professional cleaning & hygiene
2018-02-02
2015-10-28

Description

: Our company is an Istanbul based manufacturing company which was founded by the engineers who like chemistry as a profession in 1994 to produce hygienic industrial products which are indispensable elements for healthy living and offer related technical services.
64240
Cleaning & hygiene in a sustainable way
Other
Philippines
other Cleaning & hygiene in a sustainable way
2017-02-10
2015-07-24

Description

: DNAMAXX Enzymes are purely organic and biodegradable that makes it 100% environmentally and ecologically friendly. It is 100% safe to humans, animals, plants, marine life and the soil. Guaranteed safer, cheaper and more effective substitute to Chemical Deodorizers, Sanitizers, Fertilizers and Resigens utilized in garbage management, agricultural farming and disease fogging operations.

Equally important, DNAMAXX Enzyme is a DISEASE BUSTER, effectively destroying the larval stage of insects, thus preventing the spread of insect and water borne diseases, containing outbreaks of the following thru intensified clean-up operations at the safest means possible - DENGUE, Malaria, Yellow Fever, Epidemic Typhus, Onchoceriasis (River Blindness), Filiariasis, Dracunculiasis and Sleeping Sickness. Regular use of DNAMAXX Enzyme accelerates the degradation of organic wastes and averts
the excessive build-up of nitrates and phosphorous that pollutes the environment. It can prevent these diseases by reducing water contamination.

BD-CSS believes that we bring the feasible solution to the country's problems in Environmental Management, Agricultural Productivity, Health Consciousness, Solid Waste and Waste Water Management. These solutions should and must be synonymous with economic growth. On the other hand, referring to the DNAMAXX Enzyme Disease Buster, it is unfortunate that DENGUE outbreaks and waterborne diseases throughout the country has reached critical levels with a Seventy-Five Per cent (75%) Increase in recorded cases from the same time the previous year. And even if immediate and decisive action is to be undertaken in resolving the problem - to contain the outbreaks and intensify clean-up operations, the Department of Health (DOH) is to make a thorough assessment of the situation in employing the safest means possible.

BD-CSS is the Distributor of DNAMAXX Enzyme. Other products include the Dengue Buster, Enzol, Micronutri and the Manigo Organic Fertilizer. Orders are delivered within two to three days from time of issuance of a Purchase Order. DNAMAXX Enzyme is an award-winning product – a Grand Winner for the LIKHA AWARD Category of the 2006 UNLAD PILIPINAS AWARDS. Should your good office find interest in this breakthrough product, BD-CSS is willing to demonstrate to you and your technical working group the efficacy and usefulness of our product at your convenience.
66505
Cleaning & hygiene in a sustainable way
Other
Canada
other Cleaning & hygiene in a sustainable way
2017-02-20
2015-07-08

Description

: Certified organic mint and lemon: Antiseptic, anti-viral, promotes micro-circulation. Stops bad breath.

Without fluor, sulfates, gluten, paraben, SLS (Sodium Lauryl Sulfate) or other chemicals.