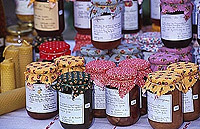 Buy organic Grocery products
Offers to sell
To obtain the company's identification, click on the offer number.
Offer N°
Category
Certification
Origin
Product
Validity
Date offer
90443
Grocery products
Other
Turkey
Spreads and pastes
2019-12-12
2017-03-30

Description

: Gluten Free Carob Spread


Carob spread will be indispensable for your breakfast! Besides 100% natural content; gluten-free and sugar-free carob spread is very tasty and healthy.
It does not contain any preservatives, sweeteners, additives. Rich in minerals and vitamins; locust bean is rich in calcium and contains vitamins A, B, E and zinc, phosphorus.
Carob spread, which is good for asthmatics and shortness of breath, can be eaten with spoon, and can be spread on bread.



Ingredients:
Carob Nectar and Carob Powder 80%, Vegetable Oil(Olive), Peanut, Milk, Natural Flavor(Vanilla)

Gluten Free, No added Sugar.
Does not contain sweetener, preservative and additive.
59386
Grocery products
Ecocert
China
Other grocery products
2018-01-05
2017-03-23

Description

: . Ecocert Certified (EU and NOP) Organic Tamari from China
This product is produced by wooden barrel according to Japanese
traditional production
process, and quality (taste and fragrance) is very good same as
Japanese shoyu.
This is gluten free.
Ingredient : soy bean, salt
79960
Grocery products
Other
Thailand
Other grocery products
2018-01-05
2017-03-23

Description

: Greenektar Rice Crackers an organic food products are meltable, baked snacks for your little yum seekers, made with Organic Jasmine Rice for safe and healthy snacking. Its completely dairy-free and perfect for sensitive bellies.
79961
Grocery products
Other
Thailand
Muesli, flakes
2018-04-15
2017-03-23

Description

: Greenektar organic baby meals provide you with the right alternative to fulfill the essential nutritional needs of your child, eradicating the threats posed by conventionally grown foods on industrial farms using chemicals. We offer best organic baby foods for your toddlers.
89849
Grocery products
Ceres
China
Pasta
2019-06-10
2017-02-21

Description

: Organic pastas and noodles made from beans.
78410
Grocery products
Ecocert
Morocco
Spreads and pastes
2019-12-12
2017-01-09

Description

: Pate à tartiner Marocaine (mélange amande, miel et huile d'argan)
71870
Grocery products
Other
India
Other grocery products
2018-12-31
2017-01-09

Description

: Our company has around 500 registered farmers who are involving in certified organic farming practices, with an average experience level of 5 years. The total certified land area looked after by our company is around 1500 ha.

The company has been involved in the trading of around 242 certified organic products, involving both cultivation and wild harvest.

Spices:


Anise/Aniseed Dal Cheeni
Apricots dried cardamom
Arecanut (whole) dried clove
Black Mustard Seed Dried/Dehydrated Apricots
Black Paper Powder Dry/Dehydrated Coriander leaves
Black Pepper (Powder) Fennel
Cardamom Large(black) Fennel Powder
BISHOPS WEEDS Fennel/saunf
CARDAMOM (Elettaria cardamomum) Fenugreek Powder (Methi Powder)
Cardamom Small (elettaria) Fenugreek seeds
Cardamom Small(mixed) Garlic paste
Cardamom Garlic Powder
Chiily Flakes-Bird Eye Ginger
Chilli- Bird Eye ginger flakes
Chilli powder Ginger Fresh
chilli whole Ginger paste
chilly powder-bird eye Ginger Powder
cinnamon ginger sliced(dried)
clove powder ginger whole
Cloves ginger whole (dried)
Coriander Powder ginger(dried,bleached)
coriander seed Green chilli fresh
Cumin Powder Green chilli Pickel
Cumin whole green pepper/bell pepper
nutmeg (in shell) Salted cumin cookies
nutmeg (shelled) turmeric fresh
nutmeg mace (dried) Turmeric Paste
nutmeg mace red dried Turmeric Powder
nutmeg mace yellow dried Turmeric whole-dried
Nutmeg whole Turmeric Whole-fresh
Nutmeg(fresh) White pepper
Red Chilli (whole) White pepper powder
78584
Grocery products
Other
Canada
Other grocery products
2018-01-29
2016-12-12

Description

: Organic Cinnamon
Other Common Names: Ceylon Cinnamon

Spice Sanctuary Grade: Cinnamom Zeylanicum species, Hand harvested

Tasting Notes: Sweeter, lighter and less woody than Cassia versions

Recommended Spice Pairing: Cardamom Ground Seeds, Cloves, Ginger Powder, Nutmeg Ground, Red Chili/Cayenne, Moroccan Harmony Spice Blend, Sweet Delight Spice Blend

Use Everyday In: breakfast dishes, cooked fruits and jams, smoothies, coffee, tea, chocolate, desserts, baking, curries, root vegetable soups, chicken and pork dishes.
78766
Grocery products
Other
Hungary
Tomato sauce
2018-04-15
2016-12-12

Description

: Tomato concentrate using a gentle procedure, giving out the essential components of the raw tomato taste and an especially beautiful pigment. The bio tomato paste can be used for making tomato juice, or sauces, or added to Italian dishes. Made from 5 times the amount of tomatoes.
Also available bio ketchup, Mexican sauce, Bolognese sauce, Milanese sauce.
49932
Grocery products
Other
Germany
Muesli, flakes
2018-12-12
2016-12-12

Description

: organic breakfast cereals
THE FRUITY ONES
Tasty, fluffy, fruity - with extra large fluffy Krunchy clusters. In two varieties: Barnhouse Krunchy strawberry and cranberry-cherry. 100% organic!
78767
Grocery products
Other
Hungary
Pasta
2018-03-01
2016-11-29

Description

: Premium Bio SPELT pasta, made from inhouse spelt flour. The impeccable quality of ingredients as well as more than twenty years of expertise. This is what makes it really unique giving the unique color, odor and taste, with a beneficial protein, mineral and vitamin content. Egg Free
Fusili, Spagetti, macaroni, long noodles, penne etc.
White and wholewheat
78768
Grocery products
Other
Hungary
Muesli, flakes
2018-04-15
2016-11-29

Description

: The worlds most nutritious 5 bio grains in a flake mix. The crushed fine wheat, the delicate barley, the coarse rye, the velvety oat and the nutritious spelt.
78769
Grocery products
Other
Hungary
Cocktail biscuits etc.
2018-01-29
2016-11-29

Description

: Bio Spelt specialties in prestige quality. Handmade honey cookies with different toppings: original (no egg) , chocolate, walnut, coconut or lemon oil. No dairy added.
78866
Grocery products
Other
France
Other grocery products
2018-12-12
2016-11-21

Description

: Organic grocery products gluten free
58831
Grocery products
Other
Germany
Other grocery products
2018-12-07
2016-11-07

Description

: Barnhouse produces over 20 different varieties of organic crunchy cereals. From our basic oat crunchy without refined sugar to our exclusive breakfast mix with cranberries or strawberries.
Your Krunchy-World
From the delivery of the whole meal or wholegrain oats to the final production of the crispy muesli/cereal everything takes place under one roof. Follow us on a short tour through the Barnhouse Krunchy World.