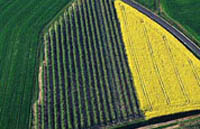 Buy organic Products for organic farming
Offers to sell
To obtain the company's identification, click on the offer number.
Offer N°
Category
Certification
Origin
Product
Validity
Date offer
99525
Products for organic farming
Other
Ghana
Fertilizers
2022-12-02
2020-06-17

Description

: FertiPURE is an organic fertilizer used for a range of different crops. In addition to the major nutrients such as nitrogen, phosphorus and potassium (NPK), FertiPURE contains a high percentage of organic material and important trace elements such as Fe, Mn, B, Mo, Zn and Cu.
Certified by Certisys "Usable in organic farming under EC Regulation No 834/2007".
Included in the list of permitted products for organic farming in Germany.
99186
Products for organic farming
Other
India
Fertilizers
2022-02-02
2020-04-06

Description

: Organic fertilizer

Plants require three major nutrients - Nitrogen, Phosphorus & Potassium for its growth and development. Fertigenic NPK is combination of Nitrogen, Phosphorus, Potassium chelated with Amino acids. Nitrogen is the major component of amino acids, the critical element constituent of proteins and is necessary component in cell structure, plays very important role in cell division and reproduction. Phosphorus is vital for adequate root development and helps the plant resist drought. It enhances flowering and increases fruit and seed production. Potassium improves quality of seeds and fruit. It also helps to improve crop resistance to lodging, disease and drought. Fertigenic NPK also contains other nutrients in required amount for better yield and quality.
73586
Products for organic farming
Other
USA
Fertilizers
2021-04-04
2020-03-03

Description

: High phosphate rich fertilizer derived from crustaceans
70140
Products for organic farming
Other
Great Britain (UK)
Fertilizers
2021-05-10
2020-02-03

Description

: Since the farm was founded in 1991, our staff has provided countless individuals and companies worldwide, with valuable information and a comprehensive line products to assist them in vermiculture, vermicomposting, horticulture and organic farming.

Our star workers are earthworms. From them, we use their castings in:

two bagged products, Barefoot Soil Earthworm Castings and Barefoot Soil Deluxe Potting Mix, and
several bulk products available only onsite including:
Barefoot Soil Earthworm Castings,
Earthworm Castings,
Perfect Blend (50% Barefoot Soil Earthworm Castings and 50% manure)
our hugely popular Deluxe Garden Blend (20% Barefoot Soil Eathworm Castings, 20% composted dairy manure and 60% topsoil),
and Worm Tea
65205
Products for organic farming
Other
India
Fertilizers
2021-12-12
2019-11-04

Description

: Prathista products are listed in OMRI (ORGANIC MATERIAL REVIEW INSTITUTE), USA (click to view certificates) as crop nutrients for meeting Nutrient deficiency as per USDA-NOP standards and European Union Standards.

Prathista signed long term MoUs with INDOCERT (www.indocert.com) & Foundation for Organic Agriculture & Rural Development Organizations (www.organicfoundation.in) to develop Organic Agriculture in India & also in International markets, which facilitates certification of land as well as crop production.

Prathista launched unique Chelated Minerals based on Proteinates, Lacto-Gluconates, Glycinates, which are complementary to existing feed supplement Formulations.

Prathista has opened Office in ALMERE, Netherlands in Joint Collaboration with Quavac BV to market Prathista unique Agri in-puts, Chelated Minerals, Organic acids & Other feed supplements in Netherlands and also in entire European markets. Prathista will subsequently establish state of the art fermentation (BIO TECHNOLOGY) based manufacturing facilities to cater the needs of European markets as Joint Venture to produce all these Eco-friendly products.
Prathista Farmers Welfare Foundation (a Non profit Organization) is established to service poor farmers (*click for details)
Prathista received National awards from her Excellency The President of India - "First prize for R&D efforts" & "Second prize for out standing performance" (* for pictures) through MSME, Govt of India.

Innovative BYPASS FAT is now available for Veterinary & Live stock segments for enhancing Live stock Health and also quality of Milk & Live stock (*click for details)
KVSS SAIRAM-PRESIDENT has received Third International Award - "Asia Pacific Gold Star Award" from Global Achivers Foundation during International conference of Indo-Middle East Friendship Summit held in Dubai on 18th November 2011.(* view picture for details)
CHAIRMAN-KVSS SAIRAM received fellowship award from Association of Bio Technology & Pharmacy during International symposium held at Karunya University at Coimbatore.(*view for picture)
Prathista participating in International Exposition being held at Jaffna, Sri Lanka during 20-22nd January 2012. Please witness our innovations in our stall No. 79.
Prathista International Inc proposals were approved by Honorable Commissioners for City of Manhattan to provide need based incentives for R&D establishment in USA and suitable Agreement is already signed with City Major after clearance from second Public Hearing meeting held on 20th December 2011.
Prathista has taken over "Haryana Bio Tech Private Limited" near Sohana Industrial Area in Haryana to establish state of the art Research Base in North India along with Formulation Unit as a Joint Venture with NRIs with American Technology.
KVSS SAIRAM-PRESIDENT received All India Economy Survey Award Council honor as "Shining Image on India" (media partner – AAJ TAK) - 2011 for his Outstanding Achievements & Distinguished Services to the Nation.
90132
Products for organic farming
Other
Switzerland
Fertilizers
2021-12-12
2019-11-04

Description

: Today Daniel Trading S.A. is the sole exclusive seller of Energy Investment Company products.
We would like to offer your attention a product of organic fertilizers: Leonardite.
Characteristics of leonardite as follows:


Moisture (operation ),%%
30,00 -50,00
Ash,%
12,00
Acidity ??,%
3,0 -6,40
Bitumens ( crude montan wax ), (minimum ),%
15,00
Humic acid, %
65,00-80,00

Elemental composition of leonardite:

N, %0,51
?, %61,13
S, %3,64
?, %5,56
?, %29,16

Heavy metals in leonardite ash:
we found that zinc content in leonardite ash was 46.6 ?g/g; manganese – 33.1 ?g/g; copper – 27.6 ?g/g; nickel – 16.9 ?g/g; cadmium – 0.32 ?g/g; lead – 17.7 ?g/g. There are also trace amounts of mercury and arsenic. Among the elements tested, iron has exceptional place, with content of 3.42mg/g of ash. These values point to low heavy metal contents in the coals under testing; the most dangerous of them (mercury and arsenic) were found only as traces.



Leonardite Performance may vary depending on external factors (weather conditions along the route, different times of the year). Changes in these indicators will be within acceptable standards, and they will be displayed in the contract.

Benefits of using leonardite for the production of fertilizers:

• Eco-friendly, organic fertilizers, growth stimulator ready for direct use.
• Increase productivity up to 40% without extra use of fertilizers.
• High ecological manufactured fertilizers - fertilizers from leonardite does not contain nitric acid and orthophosphate.
• The ability to direct the use of leonardite as a fertilizer without further processing at a rate of 200 – 500 kg of lignite on 1 hectare of land.
• Guaranteed and continuous supply of leonardite. Prices competitive to other producers.
• Reclamation of land cover after the mining operations that are mined by open method.
• Restoration of land fertility.
• Remediation and detoxification of agricultural lands.
• Reclamation of saline soils, as well as the detoxification of lands contaminated by anthropogenic human activities.

Delivery condition:
• Price of leonardite in bigbags -120 euro/MT on FOB
• Quantity per month: min 1 000- max 30 000 kmt.
90382
Products for organic farming
Other
USA
Other products for organic farming
2021-01-01
2019-11-04

Description

: contact me to grow for you! yearround
78313
Products for organic farming
Ecocert
France
Fertilizers
2020-10-08
2019-10-10

Description

: Nouveau fertilisant organique à base de plumes fraîches (non hydrolysées),stérilisées mécaniquement...procédé breveté.Riche en azote (11-3-2), ce fertilisant se présente sous forme de granulé .
Je recherche actuellement des distributeurs
89654
Products for organic farming
Other
Great Britain (UK)
Other products for organic farming
2020-01-01
2019-09-12

Description

: phytalex
INCREASE MECHANISMS of NATURAL RESISTANCE

Nutritional product with specific formulation that acts on physiological processes of the plant and allows to remain strong even in case of presence of phytopathogenic fungi (Mildew, Scab, Fusarium,Alternaria, Esca disease) that cut down the efficiency of foliar, vascular and productive system. It ensures a rapid vegetative recovery, stimulates the biosynthesis of lignin and olyphenolic compounds; increase the mechanical strength of the tissues. Act on the photosynthetic processes, increase the biosynthesis of sugars and therefore the energy available to the plant, to maintain an high productivity.

A specific and efficient formulation by the Agridaeus Research.

It stimulates the physiological processes of SAR (Systemic Acquired Resistance) that promotes physical strenghtness of plant tissues; It increases the production of lignin and polyphenolic compounds which increase the resistance of plant tissues.
89655
Products for organic farming
Other
Great Britain (UK)
Other products for organic farming
2020-01-01
2019-09-12

Description

: scudo°therm

For the prevention of Frosts, Burns,Cracking and physiological disorders due to water stress

Self-crosslinking biodegradable copolymer. Applied on plants, forms a semi-permeable membrane that regulates the water exchanges between plants and environment. Regulates transpiration preventing dehydration and the appearance of damages on flowers, leaves and fruits. Increase the shelf-life of fruits, leafy vegetables and cutted flowers. A specific and efficient formulation by the Agridaeus Research.
79874
Products for organic farming
Other
Iran
Fertilizers
2022-01-05
2019-08-13

Description

: We can provide vermicompost
59253
Products for organic farming
Other
Philippines
Fertilizers
2020-05-05
2019-08-13

Description

: NATURESBIO ORGANIC FERTILIZER

* FOOD FOR THE PLANTS
MACRO NUTRIENTS – NATURAL NPK, CALCIUM, MAGNESIUM
60 MICRO NUTRIENTS PLUS AMINO ACID
PLANT GROWTH HORMONES(Auxins, Cytokinins, and Giberillins)
PLUS ALGINATES & CARRAGEENAN (Natural Sticker)

* STIMULATES THE PLANTS DEVELOPMENT
> PLANT STIMULATOR
> PLANTS CATALYST UTILIZING SUN ENERGY
> PLANT GROWTH PROMOTER

* SOIL NUTRIENTS
SERVES AS SOIL CONDITIONER
GOOD MICROORGANISM ACTIVATOR
IMPROVES PLANTS ECO-SYSTEM THRU SOIL

* NATURAL RESISTANCE
BACTERICIDAL , INSECTICIDAL ,
PESTICIDAL , FUNGICICAL

FEATURES AND BENEFITS

> EASY AND UNIFORMITY APPLICATION
> NATURAL STICKER QUALITY - ALGINATES & CARRAGEENAN
> EVELOPS SYSTEM ACQUIRED PEST RESISTANCE
> NO OVERDOSE, NO EXPIRATION
> ENVIROMENTAL FRIENDLY , SAFE TO USE
> DETOXIFY THE SOIL
> EASY & FAST DECOMPOSITION
> NO BURNING EFFECT
61609
Products for organic farming
Other
Malaysia
Fertilizers
2020-10-23
2019-06-05

Description

: Our Bio-organic fertiliizer is made of natural resources such as:-

a) Natural mineral contents
b) Enzyme
c) Effluent sludge
d) Palm press fiber
e) Palm kernel shell powder
f) Palm kernel cake

Our production capacity is 2000tonnes per month.
80285
Products for organic farming
Other
Indonesia
Fertilizers
2020-01-05
2019-05-21

Description

: Liquid organic fertilizer :
N = 3.253 %
P = 0.378 %
K = 0.752 %
C-Organic = 12.965 %
C/N Ratio = 3.985

Granular organic fertilizer :
C-Organic = > 13 %
C/N Ratio = 15-25
pH = 4-9
Moisture = 6-12 %
Size = 2-4mm > 85 %
59251
Products for organic farming
Other
France
Fertilizers
2020-03-10
2019-05-21

Description

: TIFI est un produit contenant des spores (conidies) et du mycélium de champignons vivants non génétiquement modifiés habitant les milieux tempérés.

Le Trichoderma atroviride MUCL45632 est un champignon qui exerce son action principalement dans la rhizosphère : amélioration de levée des graines, amélioration de croissance, assainissement des sols et supports de culture et réduction de l'impact des infections (antagonisme vis-à-vis de champignons pathogènes du sol: Armillaria, Rhizoctonia, Sclerotinia, Fusarium, Phytophtora, Botrytis). Le champignon permet aussi de protéger les blessures de coupe et de taille en les colonisant temporairement. La souche sélectionnée se distingue par sa stabilité dans le sol et les supports de culture, sa grande adaptabilité à l'environnement et sa reproductibilité élevée. Le tout se traduit par une action plus rapide et plus efficace ainsi que par une plus grande persistance, grâce à sa capacité à vivre en occupant la rhizosphère et en colonisant le cortex radiculaire des plantes herbacées ou ligneuses.