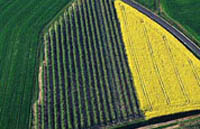 Buy organic Products for organic farming
Offers to sell
To obtain the company's identification, click on the offer number.
Offer N°
Category
Certification
Origin
Product
Validity
Date offer
63897
Products for organic farming
Other
USA
Fertilizers
2019-06-30
2018-01-30

Description

: Description: Earthworm Castings Highly Pure Organic Fertilizer

Product name: Peaty's – a highly stable black peat humus and organic meal growth medium fed to worms that result in high quality, highly pure earthworm castings fertilizer. This product is listed by the Organic Material Review Institute (OMRI) as 'unrestricted use' and under the U.S. National Organic Program. It is safe around kids, pets, and crops and has the unique property of retaining up to 140% of its weight in water. Will supply 25 metric tons per month in 2012, up to 250 metric tons per month in 2014.

Properties: Peaty's Organic Fertilizer
Excellent medium for plant growth
High moisture retention
Improves physical & biological condition of soil
Improves aeration
Reduces frequency of irrigation
Enhances strong and healthy root system
Contains natural enzymes and plant nutrients
Stimulates the production of phytohormones.

Composition:
Nitrogen: 1.6-2%
Phosphoric Acid .11%
Potassium .10%
Organic carbon 26%
Calcium 1.7%
Magnesium .22%
Sulfate .13%
Iron 1.1%
Moisture content 50%
pH 4.89
94198
Products for organic farming
Other
Iran
Seeds
2019-01-29
2018-01-22

Description

: Iran saffron , cumin seed factory
73965
Products for organic farming
Other
Pakistan
Fertilizers
2019-10-01
2018-01-18

Description

: We are Certified manufacturer of Organic Fertilizer named Heera Organic Fertilizer.
93786
Products for organic farming
Other
India
Fertilizers
0000-00-00
2018-01-18

Description

: we are the manufacturers of completely organic plant promoters and veterinary products/ feeds. Our products are the mixtures of herbs and minerals , and the bio fertilizers are from plant extracts.we supply to the clients as per their requirements in kg formats and unit wise.please allow us to provide you your required organic bio-fertilizer and veterinary products and contact on aashanayak@novarc.co.in.
94146
Products for organic farming
Other
USA
Fertilizers
2019-02-15
2018-01-10

Description

: Sustane organic fertilizers are granulated aerobic compost based fertilizers allowed for organic production and available in over 60 countries worldwide. Standard products include Sustane 4-6-4, 3-7-4, 5-2-4, 8-2-4 and 8-4-4. Tested and developed since 1988. High performance, low odor, low dust, uniform granulation available in different particle sizes. Packaged in 2.27 kg., 9.07 kg., 22.67 kg weather resistant bags; 907 kg. super sacks and available in bulk.
93286
Products for organic farming
Other
India
Fertilizers
2019-01-01
2017-11-06

Description

: GreeNeem Neem Cake-Slow Release Organic Fertilizer- OMRI Listed (Organic Materials Review Institute)
Neem Cake/Neem seed meal – an excellent bio degradable slow release organic fertilizer with pest repellent and nematicide property. Has rich plant nutrients and also slows the Nitrogen intake from the soil and thus the plant gets a prolonged supply of nitrogen from the soil. Can be well applied as itself or along with the other Organic or Inorganic fertilizers. Rightly called as Bio Soil Fumigant.
80288
Products for organic farming
Ekoagros
Lithuania
Fertilizers
2019-04-25
2017-11-06

Description

: bio-organic input, extract of vermicompost tea with prolonged expiry date, suitable for industrial applications
87380
Products for organic farming
Other
India
Seeds
2019-12-31
2017-11-06

Description

: We are a leading suppliers of organic products and herbal seeds and powder. You can contact us through delightimpex2@gmail.com, Mobile no (91) 044 9884303071.
81525
Products for organic farming
Other
Philippines
Fertilizers
2019-02-15
2017-10-10

Description

: What's the difference between humic acid and fertilizers?
There is a lot of confusion out there when it comes to Humic Acids; people always wonder if it is a fertilizer, and if not a fertilizer - what is it?
Humic Acids are best known as a soil conditioner which makes poor soils good and good soils great. Humic Acids work best when applied with fertilizers to create optimum growing conditions. They work as a compliment to the fertilizer and the benefit is a more efficient use of your fertilizer and the money you spent to add it.

Humics Work in Conjunction with Fertilizers
Humic Acids are not fertilizers, but can be added to any fertilizer prescription as a compliment to it. Fertilizers are analyzed on the basis of their value of Nitrogen, Phosphorus and Potassium or Potash (N-P-K). Humic Acids are analyzed on the basis of their content of humus and in the case of Black Earth that value is over 80%.

Humic Acids can Increase the Effectiveness of Fertilizer
Humic Acids have the ability to make your soil perform better even if it is a marginal soil condition. Fertilizers provide a nutrient source for the plant, but rarely have any benefit to the soil. When applied to sandy soils, Humic Acids can provide organic matter and help retain water, which is essential to plant growth. Some fertilizers are mobile in the soil and have the potential to leach out of the root zone in sandy soils. Granular Humic Acids can help hold these fertilizers in the root zone for longer periods of time and allow the plant to take up more nutrients. In hard pan or compacted soils, an addition of Humic Acid can break up these soils and allow nutrients to penetrate deeper down to the root zone.

We all know fertilizers are essential inputs in any cropping system. With Humic Acids, you are able to increase the efficiency of those fertilizers by increasing the nutrient uptake and retention. Along with that, Humic Acids can add organic matter to deficient soils, increase root vitality, increase chlorophyll synthesis, have better seed germination, stimulate beneficial microbial activity and have overall healthier plants and improved yields. They also work to unlock nutrients like phosphorus that are tied up in the soil.

Use Humic Acid to Restore the Health of Your Soil
Most people are quick to say Humic Acids are fertilizers, but in fact, it is more of a soil conditioner. The benefits far outweigh the costs and with so many soils being depleted around the world today, Humic Acids are an effective product to reverse the depletion trend. In a world where we are seeing world population grow at an exponential rate, and are losing arable acres on which to grow crops, we need to fertilize crops to maximize production and feed the hungry.

To keep your soil healthy, vibrant and productive, look towards a fertilization program with Humic Acids to help you achieve that. In turn, you will prosper with higher yields, a healthier soil and a sustainable future.
73949
Products for organic farming
Other
Iran
Fertilizers
2019-10-10
2017-10-04

Description

: We produce organic fertilizer and vermi compost fertilizer.our production approved by Iranian standard organization. We are selling to Iraq and to many private sectors in Iran
73222
Products for organic farming
Other
India
Fertilizers
2019-03-25
2017-10-04

Description

: Natures Way Agri Solution is a group of farmers who practice organic farming for the promotion and development of organic food, & help the farmers to get quality production ,Crop Rotation, Green Manuring, Farm yard manuring, Vermicompost, Biological(Bio-Fertilizers) in puts such as herbal growth promoters and highly selective seeds varieties to suit different agro climate in India. Farms idea behind the principal of organic products is not only monetary benefits but also social cause to produce healthy nutritious food by encouraging bio-diversity, energy conservation, minimization of waste & prevention of pollution, which is very vital to healthy living & healthy food
92458
Products for organic farming
Other
Spain
Fertilizers
0000-00-00
2017-09-19

Description

: High quality Fertilisers produced in spain and exported around the world.
Products:

Organic matter

Salinity corrector

Calcium corrector

Magnesium corrector

Potassium corrector

Nitrogen corrector

Aminoacids with Zn-Mn

Aminoacids with Ca

Aminoacids with Mg

Aminoacids with Zn

Aminoacids with B

pH Corrector

Root Bioactivator for foliar application
Root Bioactivator for soil application
Fruit Bioactivator
Ripening Bioactivator
Flowering Bioactivator
Legume Bioactivator
Root Bioactivator for extensive crops
Fruit Bioactivator for extensive crops
Fruit Bioactivator for vegetables and fruit trees
Aminoacids with microelements for vineyard
Aminoacids with mircroelements

Bioactivator with seaweed extract

Inducer against fungi and bacteria
Inducer against soil fungi
Inducer against bacteria

Potassium soap

Inducer against fungi and bacteria

40% Aminoacids

30% Aminoacids with Zn-Mn

20% Aminoacids

Antithermic-stress
81273
Products for organic farming
Other
USA
Fertilizers
2018-04-15
2017-09-19

Description

: supply humic acid , potassium humate.sodium humate, fulvic acid, potassium fulvate,organic manure ,water solube fertilizer,
59253
Products for organic farming
Other
Philippines
Fertilizers
2019-05-05
2017-07-26

Description

: NATURESBIO ORGANIC FERTILIZER

* FOOD FOR THE PLANTS
MACRO NUTRIENTS – NATURAL NPK, CALCIUM, MAGNESIUM
60 MICRO NUTRIENTS PLUS AMINO ACID
PLANT GROWTH HORMONES(Auxins, Cytokinins, and Giberillins)
PLUS ALGINATES & CARRAGEENAN (Natural Sticker)

* STIMULATES THE PLANTS DEVELOPMENT
> PLANT STIMULATOR
> PLANTS CATALYST UTILIZING SUN ENERGY
> PLANT GROWTH PROMOTER

* SOIL NUTRIENTS
SERVES AS SOIL CONDITIONER
GOOD MICROORGANISM ACTIVATOR
IMPROVES PLANTS ECO-SYSTEM THRU SOIL

* NATURAL RESISTANCE
BACTERICIDAL , INSECTICIDAL ,
PESTICIDAL , FUNGICICAL

FEATURES AND BENEFITS

> EASY AND UNIFORMITY APPLICATION
> NATURAL STICKER QUALITY - ALGINATES & CARRAGEENAN
> EVELOPS SYSTEM ACQUIRED PEST RESISTANCE
> NO OVERDOSE, NO EXPIRATION
> ENVIROMENTAL FRIENDLY , SAFE TO USE
> DETOXIFY THE SOIL
> EASY & FAST DECOMPOSITION
> NO BURNING EFFECT
59251
Products for organic farming
Other
France
Fertilizers
2019-03-10
2017-07-26

Description

: TIFI est un produit contenant des spores (conidies) et du mycélium de champignons vivants non génétiquement modifiés habitant les milieux tempérés.

Le Trichoderma atroviride MUCL45632 est un champignon qui exerce son action principalement dans la rhizosphère : amélioration de levée des graines, amélioration de croissance, assainissement des sols et supports de culture et réduction de l'impact des infections (antagonisme vis-à-vis de champignons pathogènes du sol: Armillaria, Rhizoctonia, Sclerotinia, Fusarium, Phytophtora, Botrytis). Le champignon permet aussi de protéger les blessures de coupe et de taille en les colonisant temporairement. La souche sélectionnée se distingue par sa stabilité dans le sol et les supports de culture, sa grande adaptabilité à l'environnement et sa reproductibilité élevée. Le tout se traduit par une action plus rapide et plus efficace ainsi que par une plus grande persistance, grâce à sa capacité à vivre en occupant la rhizosphère et en colonisant le cortex radiculaire des plantes herbacées ou ligneuses.