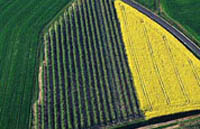 Buy organic Products for organic farming
Offers to sell
To obtain the company's identification, click on the offer number.
Offer N°
Category
Certification
Origin
Product
Validity
Date offer
70508
Products for organic farming
Other
Turkey
Fertilizers
2014-08-10
2013-05-16

Description

: Bat guano is abtained from thoroughly natural substances and therefore it should not be mixed with other organic fertilizing substances.


-Protects and improves physical structure of soil.

-Improves root development of herbs, increases productivity.

-It thickens root tips, apparently affects the leaves and flower petals.

-Increases product quality.

-Ensures 10-15 days earliness with crop.

-Enriches soil since it includes many micro and macro nutrients.

-does not pollute the soil which was previously polluted with chemicals, agricultural chemicals and heavy metals.

-Decreases the need for other fertilizers.

-Decreases the need of irrigation by enhancing water keeping capacity of soil.

-Facilitates tempering of soil by enhancing aeration capability of soil...

-Accelerated the development of herbs.

-Plays role in the conglomeratio of the grains on the soil surface,prevents erosion thanks to its featura.

-Prevents formation of rigid layers on soil surface..

-plays role on the establishment of biological balance by taking the microorganismis in soil to suitable levels.

-Prevents growth of bacteria leading disease in herbs.

-It displays no risk for health. No problem will ocur in case of any physical contact.

-Excessive use of bat guano has no negative effect on the soil and no toxic effect on herbs.
59253
Products for organic farming
Other
Philippines
Fertilizers
2015-05-05
2013-04-29

Description

: NATURESBIO ORGANIC FERTILIZER

* FOOD FOR THE PLANTS
MACRO NUTRIENTS – NATURAL NPK, CALCIUM, MAGNESIUM
60 MICRO NUTRIENTS PLUS AMINO ACID
PLANT GROWTH HORMONES(Auxins, Cytokinins, and Giberillins)
PLUS ALGINATES & CARRAGEENAN (Natural Sticker)

* STIMULATES THE PLANTS DEVELOPMENT
> PLANT STIMULATOR
> PLANTS CATALYST UTILIZING SUN ENERGY
> PLANT GROWTH PROMOTER

* SOIL NUTRIENTS
SERVES AS SOIL CONDITIONER
GOOD MICROORGANISM ACTIVATOR
IMPROVES PLANTS ECO-SYSTEM THRU SOIL

* NATURAL RESISTANCE
BACTERICIDAL , INSECTICIDAL ,
PESTICIDAL , FUNGICICAL

FEATURES AND BENEFITS

> EASY AND UNIFORMITY APPLICATION
> NATURAL STICKER QUALITY - ALGINATES & CARRAGEENAN
> EVELOPS SYSTEM ACQUIRED PEST RESISTANCE
> NO OVERDOSE, NO EXPIRATION
> ENVIROMENTAL FRIENDLY , SAFE TO USE
> DETOXIFY THE SOIL
> EASY & FAST DECOMPOSITION
> NO BURNING EFFECT
70140
Products for organic farming
Other
Great Britain (UK)
Fertilizers
2015-05-10
2013-04-29

Description

: Since the farm was founded in 1991, our staff has provided countless individuals and companies worldwide, with valuable information and a comprehensive line products to assist them in vermiculture, vermicomposting, horticulture and organic farming.

Our star workers are earthworms. From them, we use their castings in:

two bagged products, Barefoot Soil Earthworm Castings and Barefoot Soil Deluxe Potting Mix, and
several bulk products available only onsite including:
Barefoot Soil Earthworm Castings,
Earthworm Castings,
Perfect Blend (50% Barefoot Soil Earthworm Castings and 50% manure)
our hugely popular Deluxe Garden Blend (20% Barefoot Soil Eathworm Castings, 20% composted dairy manure and 60% topsoil),
and Worm Tea
56597
Products for organic farming
Other
Bulgaria
Fertilizers
2014-03-10
2013-04-22

Description

: "Black gold" BLACK GOLD - BLG / vermikompost, lumbrikompost, organic fertilizer, bio fertilizer, manure produced using California red worms /
BLG1 - pellet size - 4 - 6 mm - for greenhouses, production of seedlings, fertilization of indoor flowers, etc.. 50 liters.
BLG2 - pellet size - 10 - 12 mm - for permanent crops, lawns, and other cereals. 50 liters.

Packaging - 50 liters or negotiation.

Price per pack BLG1 - 24,90 Euro without VAT per contract up to 1000 liters.
Price per pack BLG2 - 19,90 Euro without VAT per contract up to 1000 liters.

Price per pack BLG1 - 17,00 euro excluding VAT for orders over 1000 liters.

Price per pack BLG2 - 15,00 euro excluding VAT for orders over 1000 liters.

Price does not include transportation. /
Request: take time from 3 to 10 days to prepare the product and packaging. Advance payment of 30 to 50% / depending on the quantity /. The remainder is paid on the day of shipment. Product is accompanied by a certified copy of the Analysis of CENTRAL LABORATORY TESTS FOR CHEMICAL AND CONTROL
59118
Products for organic farming
Qualite France
France
Fertilizers
2014-01-05
2013-04-22

Description

: PROPRIETES EXCEPTIONNELLES

- 10 fois plus riche que le fumier traditionnel
- sans odeur
- allège et régénère la terre par sa richesse en matière organique et micro-organismes
- stimule la croissance des plantes grâce à ses éléments nutritifs et oligo-éléments
- ne brûle pas même en surdosage
- fertilise en profondeur tous les sols
- sa granulométrie fine permet d'aérer efficacement toutes les terres
- supprime l'effet traumatisant des transplantations
- à mélanger avec tous supports de culture (terreau, terre de bruyère, terre végétale)
42987
Products for organic farming
Other
Madagascar
Fertilizers
2014-01-29
2013-04-17

Description

: Guanomad is the only company producing and exporting bat guano from Madagascar in the Indian Ocean area.
Bat guano is a biological organic fertilizer which is essentially composed of bat excrements. This fertilizer can be used for all kinds of cultivaton.
With reference to annex II of the EC Regulation N°2092/91, the use of bat guano for biological agriculture is allowed.
The spécifications of bat guano are:
N = 4 to 11,67 %
P = 12,20 to 17,60 %
K = 0,94 to 1,96 %
Organic Matter : 18,90 to 75,90 %
pH = 7,20 to 7,70
and Microbial flora.
We have 20 processing sites ant we produce 25 to 30 tons of bat guano a day and per site.
68933
Products for organic farming
Other
Indonesia
Fertilizers
2014-02-07
2013-02-07

Description

: Dear Sir/Madam, (HS 3101)
We would like to offer: organic fertilizer. Our organic fertilizer is from guano. Guano is made from natural resources of Bats and Sea Bird droppings sediment (feces). The macro nutritive elements contained of Nitrogen, Phosphor, Pottassium, and Sulfur perfected by other necessary micro elements, which are beneficial for plants. P2O5 content is above 12%. The moisture content of our guano is less than 5%. Our guano is in the form of natural cylindrical (NPK++Natural). This form confirmed to be more effective than granule shape. It takes almost up to 4 months to dillute on the soil. Packaging: nett. 25 kg in PP woven bag with inner liner (without printing). For any interested parties, pls kindly contact for further details. Thank you.
68125
Products for organic farming
Other
USA
Fertilizers
2014-01-31
2012-12-11

Description

: High technology biotic biological fertilizers tested by USDA Agriculture Research Services, CIMMYT and other national and international researchers. IN USDA ARS tests biotic fertilizers were found to outproduce both standard NPK fertilizers and coated nitrogen slow-release fertilizers without use of pesticides or fungicides.

Biotic biological fertilizers represent an entirely new class of fertilizers that work by accelerating growth of soil baceteria resident in all soils. Soil bacteria are 90% protein. After a brief life cycle they leave their remains in the soil in the form of soil acid gels that are the two main reactive forms of humus. Biotic biological fertilizers are completely sustainable. They are manufactured regionally from CAFO manure waste in licensed faciltiies.
67713
Products for organic farming
Other
India
Fertilizers
2014-05-02
2012-11-29

Description

: we are dealers in top quality organic fertilizers and coir pit compost.
67273
Products for organic farming
Biokontroll Hungaria Közhasnu Tarsasag
Slovenia
Fertilizers
2014-01-31
2012-11-09

Description

: Natur Biokal - organic fertilizers
67232
Products for organic farming
Other
India
Fertilizers
2013-12-31
2012-11-05

Description

: ORGANIC FERTILIZER : ORGANIC FERTILIZER is manufactured from the bufflow / Cow dung & biomass used by AEROBIC TECHNOLOGY and SCIENTIFIC COMPOSTING . Our Product increase crop Production and yield, improves soil health, fertility, structure, creates favorable conditions for healthier plant growth & development and reduce the usage of chemical fertilizers and water. Our Product extremely useful for all types of crops, fruits and vegetables. It provides humus, organic matter, micro organisms, major nutrients like Nitrogen, Phosphors, Potassium, Manganese, Calcium, Magnesium etc., Micro nutrients like Boron, Zinc, Molybdenum, Iron etc..
a) Production capacity : 10,000 MT / Year
b) Particle Size : 4mm
c) Colour : Brown to Black
d) Smell : Odorless
e) P.H : 6 to 7
f) Moisture : 15-25%
g) Bulk Density : 0.6-0.7 gm/cc
h) Nitrogen : Min. 0.8%
i) Phosphorous : Min.0.6
j) Potassium : Min.0.6%
k) Organic Carbon : 15- 18%
66968
Products for organic farming
Ecocert
Panama
Fertilizers
2014-02-02
2012-10-08

Description

: Green Harvest abono organico enriquecido
disponible por contenedores desde zona libre de colon panama rp de panama

certificado ECOCERT
66924
Products for organic farming
Other
Belgium
Fertilizers
0000-00-00
2012-10-02

Description

: producer of organic based fertilizers
66902
Products for organic farming
Other
Belgium
Fertilizers
2013-06-30
2012-10-01

Description

: Good morning,

May I inform you about a new organic fertilizer we have to offer?

These are the specifications of Happy FertiSoil®
Type of Product:100% organic fertilizer (organic matter of animal origin )

Positioning of product: ideal product for equilibrated agriculture. High concentration oÍ organic elements. Easily absorbed by soil,
Íimulates root formation. Will develop biodiversity in your soil.

Appearance: Granules of 4 mm, ideal for mechanical spreading.

Raw material: 0rganic origin, based on chicken manure. Without any input oÍ other animal raw materials.

Application: 1 à 2 ton/ha. Frequency depends on soil and culture.

Benefits of Product:
. Pasteurisation actording to european norm 1069/2009
. Source of humus
. homogeneous and stable thanks to very modern drying technology
. traceability thanks to controlled production.
. naturally oligo-elements present (Fe, Mn, Zn, (u, Mo, B)
. Stimulates activity of micro-organisms in soil

Precaution measures and conservation instructions: Keep dry. Special preservations conditions are not requested.
Non precarious product - Precaution measures are not needed,

Conditioning and Pricing
Bulk: 90€/Ton Ex Works
Big Bag: 100€/Ton Ex Works
Also available in small bags, price on demand

Agronomic values on raw product

Organic matter 71%
Dry matter 88%
Total Nitrogen 4.0%
Of wich organic (N) 3.4%
Phosphorus (P,0,) 3.l%
Potassium (K,0) 3.0%
Magnésium (1'lg0) 2%
Calcium (Ca0) 1%
Ratio C/N > l0

Benefits of organic fertilizing: Organic fertilizers ensure that the farms remain fertile for hundreds of years. Land in ancient civilizations such as
India and China are still fertile though agriculture has been practiced there since thousands of years there. The fertility is still maintained as organic fertilizers were used in the past. However, now with the increased usage of chemical fertilizers, land is rapidly becoming infertile forcing many farmers to further increase the chemical fertilizer inputs or leave farming.
65264
Products for organic farming
Other
Russia
Fertilizers
0000-00-00
2012-06-05

Description

: 'Phytop 8.67' is a highly-effective biological preparation for organic farming with fungicide, antistress and antidepressant properties. (According to the EU Regulation (EC) # 889/2008 (art.3, part 4)

'Phytop 8.67' contains the strains of spore-forming bacteria of Bacillus subtilis and Bacillus amyloliquefaciens cultures, selected from the ecologically clean regions of Siberia.Bacteria are deposited in the Deutsche Sammlung von Microorganismen und Zellkulturen Gmbh European collection of microorganisms and cell cultures.

The benefits of 'Phytop 8.67':

- improves seeds germinative energy and seed germination;
- boosts growth and root development;
- helps accumulate nitrogen and phosphorus in soil;
- regulates soil microbial flora;
- enhances plant stability against unfavorable environment factors, such as freezing, dry seasons, etc.;
- increases crop yields on 20-30%;
- protect plants from phytopathogens;
- improves the capacity for survival during transportation and storage;
- suppress the growth of phytopathogens and reduces the content of opportunistic - - pathogenic, pathogenic and putrefactive microflora in soil;
- removes stress after chemical application;
- cost-effective.