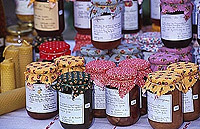 Buy organic Grocery products
Offers to sell
To obtain the company's identification, click on the offer number.
Offer N°
Category
Certification
Origin
Product
Validity
Date offer
70264
Grocery products
Other
Italy
Other grocery products
2014-02-10
2013-05-07

Description

: we are producers and seller of olio beato products,organic extravirgin olive oil,stuffed olives,
artichoks brine,es,sundried tomatoes,pasta sauce,tapenade,grilled vegetables,
olives in brine,jams sugar free
70141
Grocery products
Other
USA
Other grocery products
2015-02-23
2013-04-29

Description

: All of our Organic Food Products are certified organic and free from GMO material. We offer the following organic products which are also available in private label. Grocery Items - Jam, Peanut Butter, Soup Snack Items - Microwave Popcorn, Bulk Popcorn Dairy Items - Cheese, Milk, Butter, Cream Cheese, Sour Cream, Ice Cream Bakery Items - Cake Mixes, Bread Mixes, Cookie Mixes, Brownie Mixes
59089
Grocery products
Other
Japan
Other grocery products
2014-03-10
2013-04-22

Description

: Organic Shoyu and Tamari

Sales in Bulk
10
208
1000
18 litres egible steel drums
litres egible steel drums
litres egible steel drums
tons egible steel drums
59385
Grocery products
Ecocert
China
Soy and soy derivatives (seeds, sprouts, sauces, d
2014-02-10
2013-04-22

Description

: > 1. Ecocert Certified (EU and NOP) Organic shoyu from China
> This product is produced by wooden barrel according to Japanese
> traditional production
> process, and quality (taste and fragrance) is very good same as
> Japanese shoyu.
> Ingredient: soy bean, wheat, salt
59386
Grocery products
Ecocert
China
Other grocery products
2014-01-05
2013-04-22

Description

: . Ecocert Certified (EU and NOP) Organic Tamari from China
This product is produced by wooden barrel according to Japanese
traditional production
process, and quality (taste and fragrance) is very good same as
Japanese shoyu.
This is gluten free.
Ingredient : soy bean, salt
51261
Grocery products
Other
Germany
Baby foods
2014-07-22
2013-04-22

Description

: Certified organic products for babies
49932
Grocery products
Other
Germany
Muesli, flakes
2014-12-12
2013-04-17

Description

: organic breakfast cereals
THE FRUITY ONES
Tasty, fluffy, fruity - with extra large fluffy Krunchy clusters. In two varieties: Barnhouse Krunchy strawberry and cranberry-cherry. 100% organic!
58831
Grocery products
Other
Germany
Other grocery products
2014-12-07
2013-04-17

Description

: Barnhouse produces over 20 different varieties of organic crunchy cereals. From our basic oat crunchy without refined sugar to our exclusive breakfast mix with cranberries or strawberries.
Your Krunchy-World
From the delivery of the whole meal or wholegrain oats to the final production of the crispy muesli/cereal everything takes place under one roof. Follow us on a short tour through the Barnhouse Krunchy World.
69235
Grocery products
Other
India
Other grocery products
2014-02-10
2013-02-19

Description

: Organic Soapnut Bar
67564
Grocery products
Other
Netherlands
Other grocery products
2013-12-01
2012-11-23

Description

: Our organic potato chips are produced in a traditional way in a small family business. we use selected potatoes, grown in fertile organic land. We fry them in organic sunflower oil ( 100% non hydrogenated) which is very rich in the important polysaturated linolic acid. Since our production week is tailored to the needs, we can provide crisp fresh chips!

The cultivation of our raw materials, our production and the finished product are regularly monitored by Control Union, approved according to the EC legislation.


We produce over three hundred certified organic products that are mainly sold in health
food stores over 26 countries.
66622
Grocery products
Other
Canada
Muesli, flakes
2014-02-02
2012-09-20

Description

: We offer wide variety of healthy certified organic snacks with touch of pure maple syrup: almonds, cashews, nut mixes, dry fruits and cereal. All natural ingredients without preservatives, flavors and colors. None of the snacks contain any dairy or animal by-products of any kind.
Original recipes made by hand in small quantities from the finest certified organic ingredients to ensure the quality of every batch.
Kosher certified.
Bulk and private labels available.
Made in Canada.
66483
Grocery products
Other
Germany
Pasta
2014-02-15
2012-09-14

Description

: Spaghetti made from organic white Spelt without egg
Laminated Spaghetti / Spaghetti alla chitarra
Long U-shape

Packaging: 500g, 250g
66482
Grocery products
Ecocert
France
Other grocery products
2013-01-29
2012-09-14

Description

: Since 1936, Markal has specialized in manufacturing of food products from cereals and rice.

Today, it has a broad mix, ranging from products based on organic grains such as rice cakes and corn, oils of olive and tomato products.
66000
Grocery products
Other
Spain
Other grocery products
2013-01-29
2012-07-27

Description

: Somos un pequeño negocio familiar y no una gran empresa. Nos dedicamos a la venta y distribución de todo tipo de productos procedentes de cultivos ecológicos y de nuestro País. Nuestro deseo es ofrecer productos de alta calidad con un servicio adecuado para cada cliente.

Puede comprar a través de nuestra tienda virtual o puede pasarse por nuestro almacén y beneficiarse de nuestros descuentos especiales. También disponemos de reparto a domicilio. Si tiene tienda no dude en solicitar nuestros precios de tienda y su etiquetado personalizado.

Productos


Aceites
Arroces
Bebidas vegetales
Cereales y derivados
Complementos Naturales
Conservas
Copos y desayunos
Fruta y Verdura
Frutos Secos
Harinas
Infusiones
Legumbres
Miel y edulcorantes
Pan y repostería
Pasta
Sal artesanal
Salsas
Semillas
Siropes
Snacks
Vinagres
Yerba Mate
57038
Grocery products
Other
Italy
Pasta
2016-10-10
2012-07-25

Description

: BioBenessere, a triennial project financed by the European Union along with the Italian Government and realized by PRO.B.E.R., effective from 2008 until 2010, is for the promotion of organic products, certified in accordance with EU 834/2007 regulation for extra European countries. The project concerns the USA, Russia and Japan in particular.

Organic Pasta

Our pasta is produced from organic hard grains, harvested from the most selected European organic farms. The special bronze wiredraw grants the coarse surface, particularly suited to absorb condiments. The prolonged drying process at low temperatures keeps the precise nutritional characteristics of the raw material unaltered, along the whole scrupulous production cycle. Fields follow at least a 5 years rotation with leguminous, cereals, grass, tomatoes and vegetables. Fields are cultivated without using any chemical substances, only with organic products, all gathered from plants or animals.

This due to the fact that a well kept terrain, paying attention to rotations and the quality of manures, rows plants that matures without additional help. The final result is due to the implementation of a rigorous organic farming application.