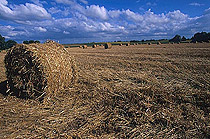 Buy organic
Offers to sell
To obtain the company's identification, click on the offer number.
Offer N°
Category
Certification
Origin
Product
Validity
Date offer
91111
Medicinal & aromatic plants
Other
Egypt
Other medicinal & aromatic plants
2019-12-12
2017-05-18

Description

: We are an Egyptian company of organic herbs and spices, medicinal and aromatic herbs. Proudly, the most pure, authentic, and best-served herbs originate basically from our farms.

Egyorganic is ECOA (Egyptian Center of Organic Agriculture) certified, and has obtained many trademarks. Egyorganic follows the latest agricultural techniques to be compliance with the European Market conditions.
90592
Products for organic farming
Certification And Testing Centre
Latvia
Fertilizers
2018-07-27
2017-05-18

Description

:
A company from Latvia is offering a tested biological fertilizer for farms. The product is ash from wooden chips, containing many minerals (listed in files attached) that are essential for enriching the soil and improving amount and quality of crop.
The product is packet in bags as seen in picture attached, each containing 1 ton of fertilizer.
If you are interested, we would be happy to inform you more about the prices, available amounts and any other questions arisen.

With best regards,
Artis Lieljuris
91017
Medicinal & aromatic plants
Other
India
Other medicinal & aromatic plants
2018-12-31
2017-05-10

Description

: Arjahi International is committed to organic food and farming and ethical trade around the world.
Manufacturer, exporter and importer of all kind of natural herb, raw herb, Indian herb, herbal extract, herbal seed, herbal leaf, herbal plant, herbal oil, herbal tea, ayurvedic herbs, plant extract, herbal bark, resins , novel and exotic ingredients .
We have helped set the trend by growing and sourcing India's largest range of high quality ingredients for a diverse range of customers worldwide in the herbal tea, food, health & beauty and medicinal markets.
Arjahi International supplies over 500 herbs, spices, botanicals, superfoods, powders, extracts, oils, fats, food colours, flavours, waxes and seaweeds , fruits etc.
90777
Services
Other
Thailand
Consulting
2018-12-31
2017-04-26

Description

: Organic Farm Design for new land with Mr.Kaan Ritkhachorn farmer founder&CEO

Mr.Kaan Ritkhachorn&Mrs.Anotai Gongvatana who found RaiPlukRak was established in 2000
in Ratchaburi province Thailand
Being a small size farm of 20 acres.we utilize our resources effictively according to our king Phumipol theory .The land is devised into 30:30:30:10 ratio.Our factory do 100% certified organic usda,canada,Europe,IFOAM


Awards

Organic Best Farm Awards from Thai Minister of agriculture and coopelative

Organic Best Farm Awards from ACT Organic Agriculture Certification Thailand

SVN Awards for Small Bussiness from Social Venture Network Asia(Thailand)

Best Farm For Family Holiday from LONELY PLANET TRAVELLER THAILAND
90776
Cosmetic products
Other
USA
Body care
2019-02-15
2017-04-26

Description

: Amrita bases its sourcing of essential oils and other ingredients, as well as the principles of product formulation, on the holistic healing paradigm. In addition to organic farming, the evaluation of the holistic vibrational quality and scent of the ingredients is a core element in sourcing essential oils and other ingredients.
90678
Sugar & honey products
Other
Thailand
Other sugar & honey products
2019-02-10
2017-04-14

Description

: "Bali Nutra Coconut Syrup is a unique Organic Sweetener, extracted from the Coconut trees of Bali.

We are stocked in over 150 UK Health Food shops, including 'Planet Organic', 'As Nature Intended' & 'Revital' and as low GI sweetener ingredient.

Why is Bali Nutra Coconut Syrup a better sweetener than competitor syrups?
Higher in nutrients than agave & maple syrup
Lower GI than honey
Certified EU Organic
Contains 17 amino acids and 13 vitamins
Gluten, GM0 and preservative free
100% sustainably sourced
Gold Star at the Great Taste Awards 2016 to become the only award winning Coconut Syrup currently on the market! " Autres produits
90677
Seeds
Other
Italy
Bulk seeds
2019-01-01
2017-04-14

Description

: Organic cereals

Seeds of Amaranth
Amaranthus

Bacche di Goji
Lycium barbarum

Chia Seeds
Salvia hispanica

Quinoa Seeds
Chenopodium quinoa

discover its properties

Maca
Lepidium peruvianum


Hemp Seeds
Cannabis Sativa


Sunflower meal cake
Helianthus annuus

discover its properties

Organic Soya Seeds

Organic Corn Seeds

Organic Oat


Rape


Spelt


Soya Meal Cake


Rape Meal Seeds


Sunflower meal cake
90433
Fruit & vegetables
Other
Ukraine
Fresh fruit
0000-00-00
2017-04-14

Description

: Fresh Pears - Conference and Ksenia with organic certification from Ukraine
90675
Cosmetic products
Other
Kenya
Body care
2019-12-12
2017-04-14

Description

: Arbor Oils of Africa creates personal care products using wild harvested African plant ingredients and perfumes. The company also specializes in the distillation of frankincense and myrrh essential oils. The frankincense and myrrh is certified organic. Wild harvest collection is sustainable and is an important new source of income for several communities, particularly in the arid areas
90674
Medicinal & aromatic plants
Other
Kenya
Essences
2019-12-31
2017-04-14

Description

: Certified organic frankincense essential oil and wild harvested pure myrrh essential oil and hydrosols of both frankincense and myrrh.
90446
Medicinal & aromatic plants
Other
Ukraine
Medicinal plants
2018-01-01
2017-03-30

Description

: We are have 25 acr organic fields (sunny side of hill) for medical herbs
90445
Commodities
Other
Madagascar
Coffee & substitutes
2018-12-31
2017-03-30

Description

: Nous sommes collecteur et vendeur de fève de cacao, café Robusta et Arabica, vanille bourbon Made in Madagascar.
76798
Cosmetic products
Other
Australia
Body care
2018-10-12
2017-03-30

Description

: We are an Australia's original and most experienced manufacturer of certified organic contract cosmetics brands. We are multi-award winning and recipient of numerous Federal and State R&D awards.

Our company also manufactures cosmetics for craft and cottage industries, large retailers and for famous international brands which are sold here and throughout the world.
62288
Fruit & vegetables
Other
Colombia
Exotic fruit and vegetables
2018-12-01
2017-03-30

Description

: Global Agricultural Trading is a family owned company and jointly in alliance with Colombian Companies dedicated to producing, commercializing, consolidating and exporting products of the Colombian Agro-industrial sector.
76990
Oils for cooking & dressing
Other
Greece
Walnut
2020-10-10
2017-03-30

Description

: Extra virgin olive oil of certified organic production from mountainous and semi-mountainous low yield olive groves of exceptional biodiversity.

Extremely low acidity and very low peroxide value.

AGIOLIA organic extra virgin olive oil is a single varietal olive oil from the famous "Koroneiki" olive variety. The fruit is hand-picked from the cultivators we collaborate with from our chosen "Mountainous olive groves of exceptional biodiversity".

The pressing of the olives takes place within 24 hours, at a temperature below 27 °C, at a contemporary two phase oil mill of low environmental burden. Laboratory qualitative tests are immediately carried out by an independent accredited laboratory in Athens, to verify that the specific batch can be labelled as AGIOLIA organic ultra premium olive oil.

Once the analysis attest to the quality, the olive oil batch is stored in stainless steel tanks, in a cool and dry environment, in a collaborating certified bottling plant of the region. The bottling takes place within 30 days, under strict supervision from the Production Engineers office with which we collaborate.

The strict specifications for harvesting, milling, storing and bottling guarantee that the AGIOLIA extra virgin olive oil has a very low acidity, which reaches below 0.30%. Furthermore, the low peroxide value, below 8 mEqO2/kg, proves that the AGIOLIA extra virgin olive oil has not undergone oxidation or other alterations.