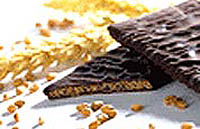 Buy organic Dietetic & health foods
Offers to sell
To obtain the company's identification, click on the offer number.
Offer N°
Category
Certification
Origin
Product
Validity
Date offer
83094
Dietetic & health foods
Other
South Africa
Fresh plant extracts
2018-02-02
2015-10-28

Description

: Fresh, potent Sceletium tortuosum powder for anti-stress, mood enhancer and to help with focus.
67137
Dietetic & health foods
Other
India
Food supplements
2017-03-02
2015-09-14

Description

: ORGANIC INDIA offers a new and exciting product "Organic Chyawanprash" made up of powerful organic ingredients. Our Organic Chyawanprash is made from the original Ayurvedic recipe developed by the sages living in the forests of the Himalayas and is the real deal! It is rejuvenating, energizing and boosts the immune system, and often called "The Elixir of Life."
ORGANIC INDIA's Organic Chyawanprash
62116
Dietetic & health foods
Consejo De Agricultura Ecológica De Castilla Y León
Spain
Food supplements
2017-07-07
2015-09-02

Description

: Soria Natural, the leading company in Spain in the Phytotherapy sector (healing using plants). A company that also has an organic food division, a pharmaceutical division and a franchise. A company that was founded 25 years ago and that has made total quality and research its main signs of identity.
61833
Dietetic & health foods
Other
Perou
Products for extra strength
2016-12-31
2015-06-23

Description

: Maca gelatinizada en polvo.
55477
Dietetic & health foods
Other
USA
Food supplements
2017-05-05
2015-06-04

Description

: A Whole New Approach To Fish Oil
New Chapter® is proud to offer a whole-food approach to fish oil and an alternative to the fractionated, highly processed and "purified" oils on the market today. From the pristine, protected waters of Alaska directly to you, Wholemega is 100% wild-caught salmon oil; rigorously tested to ensure each capsule delivers Nature's bioavailable, effective, and whole profile of beneficial fatty acids and nutrients.
72042
Dietetic & health foods
Other
Australia
Other dietetic & health foods
2017-10-10
2015-05-21

Description

: We offer a wide variety of eating options to suit all dietary requirements. Choose from hot or cold food, coffee carts and snacks, platters and buffets, formal dinners or BBQ's, with full service and equipment available
71232
Dietetic & health foods
Other
Denmark
Other dietetic & health foods
2017-12-12
2015-04-08

Description

: Vitality Source is a Danish / Scandinavian importer of organic and biodynamic health food products.

Our primary market area is the Danish market but we are expanding fast on the Swedish and Norwegian markets at the moment.

Our main customers are organic health stores and online health shops.

We are Scandinavian distributors of the Biobim babyfood products and we also distribute organic coconut water in Norway and Sweden.
62022
Dietetic & health foods
Other
USA
Food supplements
2016-07-20
2014-05-26

Description

: Whole-istic Solutions is a whole food nutritional supplement supplier, providing encapsulated vitamins, minerals, antioxidants, essential fatty acids, digestive enzymes and probiotics as well as protein and fruit and vegetable drink powders. We provide wholesale supplements to healthcare providers.