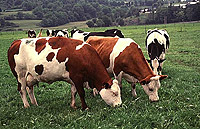 Buy organic Milk & dairy products
Offers to sell
To obtain the company's identification, click on the offer number.
Offer N°
Category
Certification
Origin
Product
Validity
Date offer
60287
Milk & dairy products
Australian Certified Organic
Australia
Butter, cream
2017-03-27
2016-03-30

Description

: Unsalted Organic Butter & Cream
83380
Milk & dairy products
Other
Great Britain (UK)
Yogurt
2018-12-02
2016-02-22

Description

: Organic Yoghurts
84370
Milk & dairy products
Soil Association Certification Ltd
United Kingdom
Other milk & dairy products
2018-02-02
2016-01-20

Description

: Butter
AMF
Butteroil
Cream
Skimmed Milk Concentrate
Whey concentrate
Whey Protein Concentrate 35 %
Organic milk
Organic cream
Organic butter
Skimmed milk Powder
84088
Milk & dairy products
Other
USA
Skimmed or powdered milk
2018-11-21
2016-01-08

Description

: CERTIFIED ORGANIC WHOLE MILK POWDER
Description
Whole milk powder is obtained by the removal of water from pasteurized whole milk. It contains no more than 4.5% moisture (by weight) and not more than 30% milkfat (by weight) unless otherwise indicated.

Ingredients
Organic Whole Milk.

Packaging
50 lb multiwall Kraft paper bag with polyethylene liner.

Storage & Shelf Life
Store at 50-80 degrees F, less than 65% relative humidity. Recommended shelf life under such conditions is 6 months.
77308
Milk & dairy products
Imo
Turkey
Skimmed or powdered milk
0000-00-00
2015-09-14

Description

: WE WANT TO OFFER "ORGANIC MILK POWDER" CERTIFIED BY IMO.