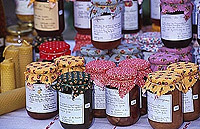 Buy organic Grocery products
Offers to sell
To obtain the company's identification, click on the offer number.
Offer N°
Category
Certification
Origin
Product
Validity
Date offer
92751
Grocery products
Abcert Gmbh
Germany
Soy and soy derivatives (seeds, sprouts, sauces, d
2020-12-30
2019-04-17

Description

: Tofu, organic

Ingredients: soybean, water, calciumsulit

Different varieties:
-natural
-natural soft
-seed
-spice

Packing:
200 g, 400 g, 1000 g

Privat label and for further processors.

S
91311
Grocery products
Other
Italy
Other grocery products
2020-12-12
2019-04-03

Description

: Since 2006 Media Chianti Group is one of the Italian leading distributor of specialty foods,wines and natural cosmetics.
MEDIA CHIANTI Group has signed important agreements with manufacturers (wine companies, olive oil companies, delicatessen companies, dairies, cured meats factories, pasta factories, biscuit factories, honey producers, coffee producers, natural cosmetics producers) in the last eleven years creating a spirit of collaboration that has led to the enhancement of the quality of the product, in fact all the raw materials used by our companies are exclusively from the Tuscan area.

The MEDIA CHIANTI GROUP ensures that each system and its related management system are always adequate to the strictest current industry standards using external certification bodies of international level thanks to regular analysis on products and thanks to daily and strict internal inspections.

Our leading products are: The best wines (Chianti wine D.O.C.G, organic Chianti wines D.O.C.G, Brunello di Montalcino D.O.C.G,, Vernaccia di San Gimignano D.O.C.G, Rose Sparkling wine), best cheeses (Pecorino Toscano DOP of Pienza, Vegetable pecorino cheese) the best Tuscan Pasta produced at low temperatures, the best Tuscan meat sauces, game sauces and Chianina meat, the best gastronomical alimentary products, the best Tuscan ready-made sauces and condiments, the best Tuscan specialties (pappa al pomodoro, ribollita, Tuscan trippa, Lampredotto of Florence..), the best Tuscan salami (Cinta Senese, wild boar, truffle salami, white wine salami..), the best and famous truffles (San Miniato), the best extra virgin olive oil DOP of the Chianti,Montalcino and San Gimignano areas, Grappa, the best typical Tuscan pastries (Tuscan Typical biscuits "CANTUCCINI+organic Cantuccini"), Gourmet Coffee, Honey products, Bee Pollen, Royal Jelly, Ice Creams, Seaweed, Seeds, Berries, Cereals/Grains, Soups, Chocolate Cakes and Dragées, natural Honey beauty-care products.
ORGANIC & Non ORGANIC - VEGAN - GLUTEN FREE - NON-GMO

The MEDIA CHIANTI group can perform the production in several ways: both buyer's private label and producer's label, this proves the high reliability we have achieved towards Italian and foreign retail chains.

The MEDIA CHIANTI GROUP of Tuscan producers under the same company name promote the authenticity and the highest quality local specialty foods, the best wines from the Tuscan area and all natural honey beauty care products.
Tuscan gastronomy is one of the major pleasures that brings a unique experience of tastes, aromas and textures. And Chianti wines need no introduction...Natural skin care products made with the highest quality, natural ingredients for the skin-care. We have an excellent assortment of high quality natural products for all skin and hair types.
We guarantee the finest top quality and the original and real Made in Tuscany flavours , scents and recipes.
62507
Grocery products
Other
Italy
Tomato sauce
2020-12-12
2019-02-25

Description

: The Conserve Manfuso Tomato Canning Company was founded in 1983 and sells its products to the most important grocery chains and catering companies in Europe and America. Our production is certified by UNI EN ISO 9001:2000 standard and BRC standard.
In recent years the Manfuso Company has produced organic tomato products to satisfy the increasing demand for healthy and uncontaminated foods for public and school canteens, supermarkets and shops.
All organic tomatoes are certified by the ICEA that checks the tomatoes at the harvest and during the canning process of the product.
Thanks to the collaboration of the ICEA that guarantees the quality of organic tomatoes and our traditional method of production, which we have used for generations, we make high quality preserves an essential part of the Mediterranean diet.
The Conserve Manfuso company produces peeled tomatoes, chopped tomatoes, mashed tomatoes, tomato paste and cherry tomato in different can sizes:
3.400 gr – 3.000 gr. – 1.000 gr. – 500 gr.
Moreover we have a regular demand for a typical and craftmade product that marks the family character of our company. We produce our tomatoes in glass jars of 520 gr.
Our excellence product is the Tomato King: we produce the famous San Marzano DOP tomatoes
Our motto is:"Eating Healthy Means Being Healthy" Sauce tomate Epicerie 2011-10-18
83693
Grocery products
Control Union
India
Other grocery products
2020-10-07
2019-02-25

Description

: Dear Mr Ivan,

We the ALVES GROUP introduce ourselves as exporters of top quality Certified Fresh & frozen -Organic Vegetables & fruits .

We have over 5000 Certified farmers associated with us from all over India - cultivating Fresh Vegetables & fruits ,Various grains like Basmati Rice ,Wheat ,Corn - Oil seeds like -Sesame seeds ,Soya beans ,Spices like Chilly,Turmeric ,Fresh & frozen fruits -Vegetables ,Aromatic & Essential Oils ,Aromatic & Herbal products.

Please let us know your specific requiretemnt along with Quantity required & specifications to enable us to offer the best Price .

Thanks & Best Regards
97063
Grocery products
Other
China
Pasta
2020-10-10
2019-01-25

Description

: Organic Gluten Free & Vegan Bean Pasta

Organic Gluten Free & Vegan Bean Instant Noodle

Organic Gluten Free & Vegan Jasmine Rice Pasta/Noodle

Organic & Natural Asian Dry Noodle
96501
Grocery products
Other
Canada
Other grocery products
2020-11-21
2018-11-05

Description

: Moringa can be used in all forms of foods, salads,soups etc cooking oil, super drinks coolers, teas etc., confections candy, etc just sprinkle it on in powder form or add the oil to whatever.
71870
Grocery products
Other
India
Other grocery products
2019-12-31
2018-10-08

Description

: Our company has around 500 registered farmers who are involving in certified organic farming practices, with an average experience level of 5 years. The total certified land area looked after by our company is around 1500 ha.

The company has been involved in the trading of around 242 certified organic products, involving both cultivation and wild harvest.

Spices:


Anise/Aniseed Dal Cheeni
Apricots dried cardamom
Arecanut (whole) dried clove
Black Mustard Seed Dried/Dehydrated Apricots
Black Paper Powder Dry/Dehydrated Coriander leaves
Black Pepper (Powder) Fennel
Cardamom Large(black) Fennel Powder
BISHOPS WEEDS Fennel/saunf
CARDAMOM (Elettaria cardamomum) Fenugreek Powder (Methi Powder)
Cardamom Small (elettaria) Fenugreek seeds
Cardamom Small(mixed) Garlic paste
Cardamom Garlic Powder
Chiily Flakes-Bird Eye Ginger
Chilli- Bird Eye ginger flakes
Chilli powder Ginger Fresh
chilli whole Ginger paste
chilly powder-bird eye Ginger Powder
cinnamon ginger sliced(dried)
clove powder ginger whole
Cloves ginger whole (dried)
Coriander Powder ginger(dried,bleached)
coriander seed Green chilli fresh
Cumin Powder Green chilli Pickel
Cumin whole green pepper/bell pepper
nutmeg (in shell) Salted cumin cookies
nutmeg (shelled) turmeric fresh
nutmeg mace (dried) Turmeric Paste
nutmeg mace red dried Turmeric Powder
nutmeg mace yellow dried Turmeric whole-dried
Nutmeg whole Turmeric Whole-fresh
Nutmeg(fresh) White pepper
Red Chilli (whole) White pepper powder
66482
Grocery products
Ecocert
France
Other grocery products
2020-01-29
2018-08-28

Description

: Since 1936, Markal has specialized in manufacturing of food products from cereals and rice.

Today, it has a broad mix, ranging from products based on organic grains such as rice cakes and corn, oils of olive and tomato products.
63979
Grocery products
Other
India
Other grocery products
2020-11-21
2018-08-14

Description

: From being in the back end of the value chain for over 10 years, Morarka Organic has now got into the front end, i.e., retailing of certified organic products under its own brand 'Down to Earth'. While this initiative is expected to provide direct linkages to the thousands of certified organic producers, it will also enable quality conscious consumers to access the very best quality of food deserved by them at reasonable prices.
95846
Grocery products
Other
Ukraine
Other grocery products
2019-01-01
2018-08-14

Description

: Organic groats from Ukraine.
-pearl barley;
-fine ground barley;
-buckwheat;
-millet;
-spelt;
-wheat;
-corn;
-oat;
-another assortment.
Certification: Standard equivalent to Reg (EC) No 834/07, 889/08
82996
Grocery products
Other
Ukraine
Soy and soy derivatives (seeds, sprouts, sauces, d
2019-01-01
2018-05-15

Description

: We offer high quality soybean seeds of Annushka variety. It is indispensable crop plant for the households of ecological farming.

It provides yields which allow to obtain:
• 36-40% of protein with excellent amino acids content,
• 17-23% of oil with the high content of unsaturated fatty acids,
• 70-150 kg/ha of organic nitrogen remained in soil after harvesting.

Above-mentioned advantages make the soybean:
• Nutritious compound of the fodder for animals;
• Innovative product for food, chemical, pharmaceutical and cosmetic industry;
• Excellent fore crop with a strong effect on high yield potential, particularly of: cereals, corn, rape seed, fodder and vegetable plants;
• Economically viable cultivated plant;
• Indispensable crop plant for the households of ecological farming, because:
- Improve physical properties and soil fertility conditions;
- Because of the Rhizobium bacteria symbiosis the plant take advantage of atmospheric nitrogen, what in turn decrease the necessity of nitrogen soil fertilization and enrich the soil in that compound;
- Leave in the soil the organic matter in the form of agricultural crop residues;
- Owing to the fact that the root system is well developed, soybean has the ability to uptake the water resources from lower soil layers which are inaccessible for other plants;
- It reveals phytosanitary and phytomeliorative function;
- It plays an important role in disease and pests control in cereal crops.

We strongly invite Individual Farmers and Seed-Companies to cooperate with us in the scope of distribution and reproduction of soybean seeds of outstandingly high yield potential. We guarantee high quality of seeds, stable yields and help in the proper technology of soybean seeds selection.
94460
Grocery products
Other
Czech Republic
Cocktail biscuits etc.
2020-02-02
2018-02-22

Description

: All of our products are baked according to our original recipes and are certified organic, as we make them using only ingredients from certified organic farming. Our organic products have no artificial trans fats, refined white sugar, chemical preservatives, or artificial colouring or flavouring.
Our product range also includes organic gluten-free biscuits, VEGAN products, biscuits for children 1+ year and FREE-FROM all alergens products.
66000
Grocery products
Other
Spain
Other grocery products
2019-01-29
2018-01-18

Description

: Somos un pequeño negocio familiar y no una gran empresa. Nos dedicamos a la venta y distribución de todo tipo de productos procedentes de cultivos ecológicos y de nuestro País. Nuestro deseo es ofrecer productos de alta calidad con un servicio adecuado para cada cliente.

Puede comprar a través de nuestra tienda virtual o puede pasarse por nuestro almacén y beneficiarse de nuestros descuentos especiales. También disponemos de reparto a domicilio. Si tiene tienda no dude en solicitar nuestros precios de tienda y su etiquetado personalizado.

Productos


Aceites
Arroces
Bebidas vegetales
Cereales y derivados
Complementos Naturales
Conservas
Copos y desayunos
Fruta y Verdura
Frutos Secos
Harinas
Infusiones
Legumbres
Miel y edulcorantes
Pan y repostería
Pasta
Sal artesanal
Salsas
Semillas
Siropes
Snacks
Vinagres
Yerba Mate
67564
Grocery products
Other
Netherlands
Other grocery products
2019-12-01
2017-12-11

Description

: Our organic potato chips are produced in a traditional way in a small family business. we use selected potatoes, grown in fertile organic land. We fry them in organic sunflower oil ( 100% non hydrogenated) which is very rich in the important polysaturated linolic acid. Since our production week is tailored to the needs, we can provide crisp fresh chips!

The cultivation of our raw materials, our production and the finished product are regularly monitored by Control Union, approved according to the EC legislation.


We produce over three hundred certified organic products that are mainly sold in health
food stores over 26 countries.
83929
Grocery products
Bcs-oko Garantie Gmbh
Germany
Pasta
2019-03-31
2017-11-06

Description

: Creana Pasta is a family -operated manufacturer in Germany, approximately 100km East of Frankfurt/Main. Our main product is special artisanal pasta produced by lamination of dough instead of extrusion. Pasta with Durm or Spelt Wheat from Organic Farming following EU-Regulations .with customized recipe example:with or without Eggs.
Private labels designs can be customised. Prices will vary according to Quality,Shape and design chosen.