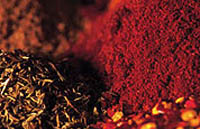 Buy organic Herbs, spices & condiments
Offers to sell
To obtain the company's identification, click on the offer number.
Offer N°
Category
Certification
Origin
Product
Validity
Date offer
77231
Herbs, spices & condiments
Other
Perou
Other herbs, spices & condiments
2017-10-10
2016-01-07

Description

: Jengibre organico fresco
83870
Herbs, spices & condiments
Consejo De Agricultura Ecológica De La Región De Murcia
Spain
Spices, peppers
2018-12-31
2015-12-17

Description

: VENTA DE FLORES, SEMILLAS, DE HELYCHRISUM ITALICUM
56830
Herbs, spices & condiments
Other
India
Spices, peppers
2018-07-31
2015-12-17

Description

: Certified organic by ONECERT

Our line of spices captures flavours and sensation from all parts of India and bring them straight to your kitchen to guarantee the perfect intense, and pesticide free seasoning of your meal.

Our Spices and Herbs available as 'Whole','Flakes' or 'Ground', as per specifications. Vibrant in Colour, Flavour and Aroma. These Organic Spices and Herbs are amongst the best in the world,cleaned, graded and packed for retail or bulk sales. Our bulk supply comes in vacuum packed bags.
Chilly
Cumin Seed
Fennel Seeds
Coriander
Cardamom
Curry Leaf
Nutmeg
Turmeric
Black / White Pepper
Ajwain
Mace
Cinnamon
Cloves
Yellow/Black Mustard Seeds
64290
Herbs, spices & condiments
Other
Egypt
Other herbs, spices & condiments
2018-05-02
2015-12-17

Description

: LOTUS, was originally founded in 1977. It was the first company of Dr. Ibrahim Abouleish and started with the name of SEKEM. The company processes all kinds of organic herbs and spices from biodynamical cultivated plants. LOTUS Upper Egypt, established in 2007, is mainly concerned with drying the herbs and spices of the SEKEM farms in Upper Egypt.

It produces, imports and exports organic and biodynamic and thus natural and chemical free, herbs, spices and seeds for its sister companies ISIS and ATOS, as well as for the export market according to International Demeter Processing Guidelines. Taste, aroma and their natural medicinal effectiveness are the highest priorities.

Applied standards
•Fairtrade criteria by FLO
•International Demeter Standard
•Kosher
•Hand-in-Hand by Rapunzel
•Bio Suisse
•National Organic Program of the USA
•EU regulation on organic farming
•Quality management standard ISO 9001
•Environment management standard ISO 14001
•Health and safty management standard OHSAS 18001
72922
Herbs, spices & condiments
Other
India
Other herbs, spices & condiments
2018-10-20
2015-11-26

Description

: we are producer supplier of certified organic herbs and spices from India.
82448
Herbs, spices & condiments
Ccpb Consorzio Per Il Controllo Dei Prodotti Biologici
Turkey
Vinegar
2017-02-10
2015-09-08

Description

: We will produce organic certified apple,grape and hawthorn cider vinegar.
This is a pure product entirely produced organic apples,grapes or hawthorns by traditional natural fermentation.Especially when a bottle is opened,color may change,sedimentation may occur,and transparent layer (called mother of vinegar) may form.Mother of vinegar is true of sign of unfiltered vinegar and forms naturally.Moreover it is an indication that the fermentation is continued and the product is not pasteur?zed and filtered.