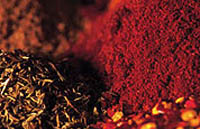 Buy organic Herbs, spices & condiments
Offers to sell
To obtain the company's identification, click on the offer number.
Offer N°
Category
Certification
Origin
Product
Validity
Date offer
98051
Herbs, spices & condiments
Ceres
Iran
Spices, peppers
2023-01-05
2020-07-22

Description

: Farakesht Co., Ltd., is an innovative farming company established in 2010-by more than a century back up of its veteran- to share happiness with its all worldwide customers through its fresh special agricultural products which consider as Iran'sexclusive pure and fresh natural golden souvenirs.
Farakesht Co., Ltd owned 300 Hectares of fertile farming lands which located in North East of Iran known as Khorasan Razavi Province where by its special climate circumstances brought us unbelievably fresh, rich and exclusive Agriculture Crops like saffron, Pistachio, medicinal plants, herbs and so on .
In our company, whole processes from cultivation and harvesting to qualifying, packing and delivery accomplish by our well experienced and well-studied experts in different fields including agricultural engineers, management and commerce under strict observations and professional handling to guarantee the quality of the final products and to ensure the satisfaction of our customers.
Our Gardens and fields flourishing different crops varied from different kind of fruits like pomegranate, saffron, medicinal plants, pistachio, nuts, cumin, date and barberry.
Flourished Crops brought in to delicate and complicated process but full of fun of producing Products "Arta" such as Saffron packs, Dried fruits, Pomegranate sauce, Iran special candy, Curd, fruit snack, fruit tubes and concentrate.
99695
Herbs, spices & condiments
Other
India
Spices, peppers
2023-02-02
2020-06-29

Description

: We are an ISO 22000, BRC, ORGANIC NPOP, NOP, EU certified company and international leader in Organic Spices & Organic Food ingredients And Organic Herbs & Herbals Leaves , Powder, TBC. Organic Vegetables Products, Organic Spices products and next- generation services specializing in manufacturing and supplying. We facilitate clients in many foreign countries to outperform the competition and customer conversion and stay ahead of the innovation game.
99691
Herbs, spices & condiments
Other
Sri Lanka
Spices, peppers
2023-10-04
2020-06-24

Description

: Ceylon Spice Trail (Pvt) Ltd., was set up to cater to the increasing demand for premium quality organic spices, food and beverages. We are on a mission to avail the global community of premium organic produce at affordable prices!
99687
Herbs, spices & condiments
Other
Sri Lanka
Spices, peppers
2023-10-04
2020-06-24

Description

: We are pioneers in organic certified tea,herbs,spice,and fruits. we can do following herbs in whole and powder forms

Organic Arjuna /Terminalia arjuna
Organic Ashwagandha /Withania somnifera
Organic Bibhitaki /Terminalia belerica
Organic Bilva / Angel marmelos
Organic Guduchi / Tinospora chebula
Organic Neem / Azadirachta indica
Organic Pippali long pepper /Piper longum
Organic sariva root cut/hemidesimus indica
Organic Trikatu Powder
Organic Tripala
Oragnic Vacha / Acorus calamus
Lemon Grass
99533
Herbs, spices & condiments
Other
Sri Lanka
Spices, peppers
2022-12-02
2020-06-17

Description

: I am a supplier from Sri lanka and i supply Cloves, Cinnamon,Black pepper. I directly take products from farmers and no artificial fertilizer used.If you want samples and prices i can sent to you.
99527
Herbs, spices & condiments
Other
Italy
Vinegar
2023-10-04
2020-06-17

Description

: Guerzoni is a generations old family owned farm with deep roots in Modena, the Company's Mission is to produce Organic Balsamic Vinegars and condiments true to tradition, with respect to the land and original recipes of the Balsamic vinegar.
We are specialized in the production of Balsamic vinegars, with Bio and Biodynamic Certification (unique producer with DEMETER certification) we sell in bottle or in bulk, or with a privat label packaging, after the customer's request.
As we produce grapes for the sole production of the balsamic vinegar, we may offer the complete range of products:
- Aceto Balsamico di Modena IGP
- Aceto Balsamico Tradizionale DOP
- White Balsamic condiment
- Saba (cooked Grape Must )
- Grape must (Grape juice)
- Cream with Balsamic Vinegar of Modena IGP
- Apple Balsamic condiment
- Apple Cider
- Wine Vinegars (White & Red)
- Balsamic Pearls
We would like to present our products to importers in usa
For any further details or for a sample, please contact me anytime.
72922
Herbs, spices & condiments
Other
India
Other herbs, spices & condiments
2021-10-20
2020-06-02

Description

: we are producer supplier of certified organic herbs and spices from India.
85675
Herbs, spices & condiments
Other
Sweden
Other herbs, spices & condiments
2021-11-21
2020-04-22

Description

: organic hops for brewing beer
85759
Herbs, spices & condiments
Other
India
Other herbs, spices & condiments
2022-07-04
2020-04-06

Description

: organic spices from the organic state of sikkim
99179
Herbs, spices & condiments
Other
Egypt
Spices, peppers
2021-01-01
2020-03-30

Description

: We are one of the leading companies in Egypt for producing, processing and exporting of dehydrated sun and machine Herbs, Spices, Seasonings, condiments and Essential oils.
99177
Herbs, spices & condiments
Other
China
Spices, peppers
2021-02-02
2020-03-30

Description

: Lovingherb Biotech Limited, well-known specialist in organic food ingredients, is located in high-tech development zone in Xi'an City, Shaanxi provice. as the leading supplier of organic ingredients, we have organic growing base in different areas in China, such as organic goji berry growing base in Qinghai province, organic reishi mushroom growing base in Zhejiang province, organic licorice root wild collection base in Xinjiang province, organic Astraglus root growing base in Shaanxi province, organic jujube, organice hawthorn berry, organic barley grass, organic wheatgrass, organic alfalfa growing base in Shaanxi province. With 12 years organic products production and trading experience, we have 7 cooperative factories in China near our growing base, and those factories mainly produce organic ingredients including organic herbs & spices powders,organic fruits & vegetable powders, organic plant proteins. we know exactly what customers concern. For prompt shipment, we set up warehouse in Tianjin port and Xi'an City, most of our hot-selling products are stored in warehouse all year round.For those products we have in warehouse, we can load containers in 3 hours. We keep close relationship with shipping companies including Evergreen,Maersk, Mediterranean shipping Company, COSCO,CMA. After many years trading, we have professional teams on international trade show, logistics, purchasing, quality control, quality traceability. We also keep close contact with certifier including Kiwa-BCS, Ecocert, Ceres, CQC, KOF-K, SGS. We also test 568 pesticide residue, heavy metal, microbiology, aflatoxin, PAHS, SO2,Peroxide etc in third party lab such as SGS, Eurofins, NSF, ALEX Stewart, TUV. We have been practising our philosophy, Customer satisfaction is our main focus. Our main market is West Europe, North America. South Asia.
91335
Herbs, spices & condiments
Other
Iran
Spices, peppers
2022-01-01
2020-03-10

Description

: The company's basic philosophy identifying and selling to reputable suppliers in the world for products that in many countries as A grade materials are considered.
We are proud of having a small family, we can offer the best quality and service to all people of the world .
We can supply saffron excellent condition
,it would be great if you can inform me about kind
and amount that you need then I'll suggest you the best
price
With kind regards
99134
Herbs, spices & condiments
Other
India
Spices, peppers
2022-04-04
2020-03-10

Description

: We are the largest processor and exporter of Organic Herbs, Spices. We have our own ICS and certified fields with more than 14,000 contracted farmers.

We can also supply you following products as an ingredients, which kindly note.

We are processor and manufacture of following Organic Products :

1. Organic Herbs & Spices, Extracts
2. Organic Cold Pressed & Essential Oils
3. Organic glycerin – Soy Glycerin, Non Soy Glycerin
4. Organic Sun flower & Soy Lecithin,
5. Organic Corn starch
6. Organic Natural food color – Annatto, Beetroot, Turmeric
7. Organic Protein – Psyllium, Sesame, Flax
8. Organic Herbal Dietary Supplements in Tablets and Capsules

You may please find attached PRODUCT CATALOGUE for your reference.

Looking forward to initiate healthy and long term business relationship with your esteemed organization.
62939
Herbs, spices & condiments
Other
USA
Spices, peppers
2022-12-01
2020-03-03

Description

: Dried Hot Peppers & Powders Dried ají powders are made from selected native Peruvian ají varieties cultivated in coastal valley of Topara, 200 Km South of Lima. The plantations are skillfully managed with strict Organic Practices and the "Organic certification" is recognized by the Netherlands based SKAL organization. INCA FLAME™ DRIED AJI consist of fully ripened ají pods which are carefully hand-picked and sun dried before using conventional air drying methods to reach the final moisture content
84579
Herbs, spices & condiments
Other
Perou
Other herbs, spices & condiments
2020-02-02
2020-02-03

Description

: Organic Maca (lepidium meyenni)

Maca is a powerful root from the Peruvian Andes, especially the High Plateau of Junin, used as a food and health source for thousands of years before the Inca period. With its high glucosinolate and macamide content it increases energy levels, and combats physical and mental fatigue and stress. It is important for sportsmen and women because of its effect on physical resistance and mental clarity. It balances the diet, giving protection from manutrition, and raises the libido.