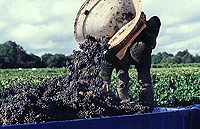 Buy organic Drinks
Offers to sell
To obtain the company's identification, click on the offer number.
Offer N°
Category
Certification
Origin
Product
Validity
Date offer
86184
Drinks
Other
Portugal
Non-alcoholic beverages (water, fruit, vegetable juice)
2018-02-02
2016-05-19

Description

: Echinacea Organic Tea
We have also:
Herbal single Tea: Verbena Tea, Chamomile Tea, Peppermint, Lemongrass, Lemon Balm.
Herbal blended Tea; Usque, Amalia and Christmas.
Fruit Tea: Apple with Cinnamon
85912
Drinks
Other
Hungary
Non-alcoholic beverages (water, fruit, vegetable juice)
2018-12-31
2016-04-27

Description

: ELLNESS – HEALTH-PROTECTION – PREVENTION
NEW PRODUCTS!!!

The organic, diatetic USDA-NOP certified juices contain in complex combination special healthy fruits, vegetables and plant (medical herb) extracts which significantly support the health-protection.
Their pleasant flavour is accompanied by valuable biological active substances, which contribute to the prevention of children's and adult's chronic illnesses', influencing to their health conditions and quality of life.
The products does not contain added sugar, preservative, or any kind of synthetic substances.
The products mean a real and positive alternative against the synthetical beverages.
The ingredients are processed with high-tech 'cold' technologies (e.g. supercritical fluid extraction, FD, etc.) ensuring the biological active physiological effects
71596
Drinks
Other
Netherlands
Non-alcoholic beverages (water, fruit, vegetable juice)
2018-02-15
2016-04-06

Description

: Organic fruit and vegeteables juice with NO: Preservatives
Added sugar
Added water
GMOs
71259
Drinks
Other
Spain
Juice concentrates
2018-03-25
2016-04-06

Description

: We offer our customers products of excellent quality, putting at the service of them, our extensive experience in the field of export, especially of products as: organic juices, creams of vegetables, gazpacho, canned vegetables, olives, jams, etc.

Our main clients are shops, supermarket chains, and large distributors in general, so our system of work and staff are fully adapted to their needs, both legal requirements, product traceability, quality packaging and palletizing.

Choosing green products means choosing products fresh, tasty, authentic, no organisms genetically modified or modified by flavouring, colourings or artificial sweeteners, at the time that are respectful with the life cycles of natural systems. All of these products come from certified ecological raw materials.
85448
Drinks
Other
Iran
Non-alcoholic beverages (water, fruit, vegetable juice)
2018-12-31
2016-03-30

Description

: Natural & organic pomegranates juice (1000 cc/200 cc):The joy of drinking natural pomegranate that is produced from its natural and organic fruit, along with the real taste of pomegranate, without any additives will remain last in your memory(This product has organic certification).
80720
Drinks
Other
Ukraine
Non-alcoholic beverages (water, fruit, vegetable juice)
2018-12-15
2016-03-30

Description

: We offer organic juices directly expressed (apple, apple-carrot, apple-pumpkin, apple-currot-pumpkin, apple-beetroot tastes). Product will be available from September 2015.
75236
Drinks
Ecocert
France
Non-alcoholic beverages (water, fruit, vegetable juice)
2018-07-20
2016-02-18

Description

: SIROPS DE FRUITS PUR CANNE 11 ref ( menthe, grenadine, fruits rouges, cassis, fraise, fuits du verger, orange, citron, orgeat, anis, et canne pur. ainsi que 5 pur jus, orange, pomme,raisin rouge et blanc, pamplemousse rose.
74396
Drinks
Other
France
Non-alcoholic beverages (water, fruit, vegetable juice)
2018-01-10
2016-02-18

Description

: Un subtil mariage entre la pomme et la framboise pour ce jus fermier médaillé au Concours Général Agricole Paris 2013. 100% pur jus de pomme-framboise sans sucres ajoutés, sans conservateurs, sans colorants.
Durée de conservation: 2ans
84171
Drinks
Ecocert
France
Alcoholic beverages (aperitifs, beer, cider, champagne)
2018-02-02
2016-01-13

Description

: Château Le PUY makes refined wines since 1610
(14th hgeneration today)

The Chateau is located at the edge of the St Emilion limestone plateau on a unique terroir called the hill of the wonders which is the highest point of the department (110m above sea level).

Le PUY is a pionneer of the organic and biodynamic approach in the Bordeaux aréa.

Le PUY is distributed directly from the chateau in more than 35 countries and in most of the gastronomic restaurants around the world.

Le PUY is certified ecocert and demeter

The Château produce 4 red cuvées "Emilien","Barthelemy","Retour des iles", "Blaise albert" , 1 rosé "Rose Marie", 1 dry white "Marie Cecile", 1 sweet white "Marie Elisa"
62788
Drinks
Other
India
Plant base drinks (herb teas, concentrates, elixirs)
2017-12-31
2015-05-26

Description

: Lakefield Farms - The Art of Tea Drinking:
25 round tea bags in a silver tin that preserves freshness (5 flavours). Label design by an Indian Artist exclusivly for this brand.

Weikfield Organic - The awarded elegant Design Box
The independent International Quality and Taste Institute ITQI, Brussels, awarded our Weikfield Organic Golden Mango Tea with the Superior Taste Award 2006. Organic Tea in squared tea bags and packed in hermetically sealed sachets to preserve freshness.