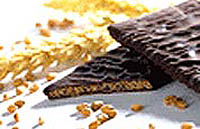 Find sellers of organic Dietetic & health foods
The Greentrade Directory
Click on the offer number to view the company's information.
To obtain the company's e-mail addresses you need to subscribe our services or please contact us at Tel.: +33 1 47 50 02 73
Fax : 33 1 47 50 28 67
Offer N°
Category
Certification
Product
61407
Dietetic & health foods
Other
Other dietetic & health foods

Description

: 1. Astaxanthin is 550 times more potent than Vitamin E in anti-oxidant. The "Super Vitamin-E"!
2. Innovative 100% vegetable astaxanthin and spirulina extract. Free of Additives!
3. Vegetable capsules, organically cultivated spirulina, non-GMO product.
61353
Dietetic & health foods
Comité Andaluz De Agricultura Ecologica (caae)
Food supplements

Description

: Soria Natural soya rusks are craft made, a daily-made leaven is used instead of using an industrial one. For its conception a non genetically modified soya is used and the result is a 0% cholesterol rusk, a high fiber and unsaturated fatty acids content.
61294
Dietetic & health foods
Consejo De Agricultura Ecológica De Castilla Y León
Food supplements

Description

: remedios y complementos naturales (fitoterapia, suplementos vitaminicos, etc)
60641
Dietetic & health foods
Other
Food supplements

Description

: food supplements
60533
Dietetic & health foods
Fødevareregion årlius
Baby foods

Description

: Excess stock of about 10 pallets of baby food on jars.

Top quality - organic and Demeter.

More info provided if interested.

A quick deal for a low price is a possibility here because of low shelf life left.
52492
Dietetic & health foods
Farm Verified Organic
Food supplements

Description

: We manufacture a wide variety of Organic Noni Products such as Noni Fruit Powder, Noni Juice, Noni Concentrate and water soluble Noni Powder Extracts. Our Noni raw materials are being used in many of the industry's finest Noni Products. We look forward to hearing from you and will gladly send you more information and samples!
59920
Dietetic & health foods
Other
Food supplements

Description

: Nopal biologique décontaminé et texturé avec haut pouvoir lipophile et hydrophile
59695
Dietetic & health foods
Other
Other dietetic & health foods

Description

: Desde nuestros orígenes en 1978, en La Abeja de Oro hemos sido un claro ejemplo de superación y constancia; ilusiones materializadas en proyectos y esfuerzos convertidos en logros. Lo que empezó por la venta de dos productos primarios como son la miel y el polen, ahora es mucho más: es un conjunto de servicios y productos naturales cuya unión ofrece un todo de Belleza, Salud y Bienestar.
59688
Dietetic & health foods
Other
Food supplements

Description

: certified organic food supplements
59609
Dietetic & health foods
Bcs-oko Garantie Gmbh
Capsules, ampoules

Description

: - 100% certified organic.
- Is available in 360 mg X 80 capsules.
- Contains 60% Polyphenol, 40% Ellagic Acid.
- Is certified Kosher.
59263
Dietetic & health foods
Other
Energy biscuit bars

Description

: FOOD BARS
59264
Dietetic & health foods
Other
Food supplements

Description

: ECLAT DE BEAUTÉ SUN organic Skin beauty - A natural food supplement, Eclat de Beauté Sun assists in hydrating skin to deal with sun effects. Its formula contains carotenoids and vitamin E, antioxidants, which assist in reducing production of free radicals which is promoted by the sun.
58619
Dietetic & health foods
California Certified Organic Farmers (ccof)
Other dietetic & health foods

Description

: -Almond Butter, Organic, Alive
Our alive, organic almond butter, made from California almonds, is our best selling product.  Unlike regular nut butters, ours are created over two to three days; we slice rather than grind. This produces a rich flavor and unique texture. 

-Walnut Butter, Organic, Alive
Our Organic Walnut Butter is made by slowly sliced organic walnuts into a rich and creamy butter that is a good source of omega-3 fatty acids, an essential type of protective fat that the body cannot manufacture.

-Pistachio Butter, Organic, Alive
Out nutrient rich pistachio butter is made from pistachios grown by family farmers in California's wondrous fertile Central Valley.

-Pecan Butter, Organic, Alive
The pecan was the food of Native Americans for millennia; one of the most nutritious nuts. Serve on fresh, crunchy vegetables or crackers.

Living Tree Community Foods
PO Box 10082
Berkeley, CA 97404 USA
(510) 526-7106
(510) 526-9516 (fax)
jesse@livingtreecommunity.com
www.livingtreecommunity.com
57750
Dietetic & health foods
Organic Food Development & Certification Center Of China
Fresh plant extracts

Description

: Dear Sir or Madam:
Good day!
We're very glad to introduce ourselves as the leading supplier of organic food, berry, herbs, nuts and spicies in china. Our organic products have been certified with NOP and EEC regulations. Our main products are as follows:
Organic goji berry( Lycium barbarum. L) ;
organic apricot seed
Organic Astragalus
organic spine date seed
Organic Chinese angelica
organic licorice root
Organic milk thistle
organic sib. ginseng
Organic reishi mushroom
organic Mongolian dandelion herb
Organic star anise
organic kiwi fruit
Organic fennel seed
organic schisandra berry
Organic cumin seed
organic thinleaf milkwort root
Organic Chinese fox-glove
organic ginger
Organic Chinese bupleun chinensis organic agaricus bisporus
Organic indigowoad root
organic ligustrum berry
Organic walnut kernel organic ginseng( power, slice)
Organic ginkgo leaf
organic eucommia bark
Organic david peach seed organic jelly fungus

We can also supply those non-organic products. We have more than 10 cooperative factories now in shaanxi, gansu, xinjiang, ningxia, and hebei province. We\'re doing our best to establish trustful and long term cooperation with our customers.
I'd like to have our products list attached. Please look at it. If you're interested in any of our products, please do not hesitate to contact. And We\'re looking forward to cooperating with you and supplying you the best quality foods with our best service.
Best regards
Allen
57466
Dietetic & health foods
Ecocert
Appetite regulators and substitutes

Description

: Our Organic product range includes:

· Withania somnifera (Ashwagandha),

· Ocimum sanctum (Basil / Tulsi),

· Commiphora mukul (Guggul pure),

· Azadirachta indica (Neem),

· Bacopa monnieri (Brahmi),

· Curcuma longa (Haldi),

· Asparagus racemosus (Shatawari),

· Boswellia serrata (Shallaki),

· Terminalia arjuna (Arjun),

· Triphala,

· Trikatu.