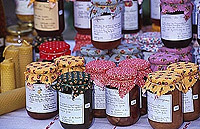 buy_x
Ofertas de venta
Para obtener la identificación de la empresa, haga clic sobre el número de la oferta
Oferta n°
Categoría
Certificación
País de origen
Producto
Validez de la oferta
Fecha de actualización
97063
Comestibles
Other
China
Pastas
2020-10-10
2019-01-25

Descripción

: Organic Gluten Free & Vegan Bean Pasta

Organic Gluten Free & Vegan Bean Instant Noodle

Organic Gluten Free & Vegan Jasmine Rice Pasta/Noodle

Organic & Natural Asian Dry Noodle
96501
Comestibles
Other
Canada
Otros comestibles
2020-11-21
2018-11-05

Descripción

: Moringa can be used in all forms of foods, salads,soups etc cooking oil, super drinks coolers, teas etc., confections candy, etc just sprinkle it on in powder form or add the oil to whatever.
71870
Comestibles
Other
La India
Otros comestibles
2019-12-31
2018-10-08

Descripción

: Our company has around 500 registered farmers who are involving in certified organic farming practices, with an average experience level of 5 years. The total certified land area looked after by our company is around 1500 ha.

The company has been involved in the trading of around 242 certified organic products, involving both cultivation and wild harvest.

Spices:


Anise/Aniseed Dal Cheeni
Apricots dried cardamom
Arecanut (whole) dried clove
Black Mustard Seed Dried/Dehydrated Apricots
Black Paper Powder Dry/Dehydrated Coriander leaves
Black Pepper (Powder) Fennel
Cardamom Large(black) Fennel Powder
BISHOPS WEEDS Fennel/saunf
CARDAMOM (Elettaria cardamomum) Fenugreek Powder (Methi Powder)
Cardamom Small (elettaria) Fenugreek seeds
Cardamom Small(mixed) Garlic paste
Cardamom Garlic Powder
Chiily Flakes-Bird Eye Ginger
Chilli- Bird Eye ginger flakes
Chilli powder Ginger Fresh
chilli whole Ginger paste
chilly powder-bird eye Ginger Powder
cinnamon ginger sliced(dried)
clove powder ginger whole
Cloves ginger whole (dried)
Coriander Powder ginger(dried,bleached)
coriander seed Green chilli fresh
Cumin Powder Green chilli Pickel
Cumin whole green pepper/bell pepper
nutmeg (in shell) Salted cumin cookies
nutmeg (shelled) turmeric fresh
nutmeg mace (dried) Turmeric Paste
nutmeg mace red dried Turmeric Powder
nutmeg mace yellow dried Turmeric whole-dried
Nutmeg whole Turmeric Whole-fresh
Nutmeg(fresh) White pepper
Red Chilli (whole) White pepper powder
66482
Comestibles
Ecocert
Francia
Otros comestibles
2020-01-29
2018-08-28

Descripción

: Since 1936, Markal has specialized in manufacturing of food products from cereals and rice.

Today, it has a broad mix, ranging from products based on organic grains such as rice cakes and corn, oils of olive and tomato products.
63979
Comestibles
Other
La India
Otros comestibles
2020-11-21
2018-08-14

Descripción

: From being in the back end of the value chain for over 10 years, Morarka Organic has now got into the front end, i.e., retailing of certified organic products under its own brand 'Down to Earth'. While this initiative is expected to provide direct linkages to the thousands of certified organic producers, it will also enable quality conscious consumers to access the very best quality of food deserved by them at reasonable prices.
95846
Comestibles
Other
Ucrania
Otros comestibles
2019-01-01
2018-08-14

Descripción

: Organic groats from Ukraine.
-pearl barley;
-fine ground barley;
-buckwheat;
-millet;
-spelt;
-wheat;
-corn;
-oat;
-another assortment.
Certification: Standard equivalent to Reg (EC) No 834/07, 889/08
82996
Comestibles
Other
Ucrania
Soja y derivados (granos, gérmenes, salsas, postres, tortas)
2019-01-01
2018-05-15

Descripción

: We offer high quality soybean seeds of Annushka variety. It is indispensable crop plant for the households of ecological farming.

It provides yields which allow to obtain:
• 36-40% of protein with excellent amino acids content,
• 17-23% of oil with the high content of unsaturated fatty acids,
• 70-150 kg/ha of organic nitrogen remained in soil after harvesting.

Above-mentioned advantages make the soybean:
• Nutritious compound of the fodder for animals;
• Innovative product for food, chemical, pharmaceutical and cosmetic industry;
• Excellent fore crop with a strong effect on high yield potential, particularly of: cereals, corn, rape seed, fodder and vegetable plants;
• Economically viable cultivated plant;
• Indispensable crop plant for the households of ecological farming, because:
- Improve physical properties and soil fertility conditions;
- Because of the Rhizobium bacteria symbiosis the plant take advantage of atmospheric nitrogen, what in turn decrease the necessity of nitrogen soil fertilization and enrich the soil in that compound;
- Leave in the soil the organic matter in the form of agricultural crop residues;
- Owing to the fact that the root system is well developed, soybean has the ability to uptake the water resources from lower soil layers which are inaccessible for other plants;
- It reveals phytosanitary and phytomeliorative function;
- It plays an important role in disease and pests control in cereal crops.

We strongly invite Individual Farmers and Seed-Companies to cooperate with us in the scope of distribution and reproduction of soybean seeds of outstandingly high yield potential. We guarantee high quality of seeds, stable yields and help in the proper technology of soybean seeds selection.
94460
Comestibles
Other
Republica Checa
Productos aperitivos
2020-02-02
2018-02-22

Descripción

: All of our products are baked according to our original recipes and are certified organic, as we make them using only ingredients from certified organic farming. Our organic products have no artificial trans fats, refined white sugar, chemical preservatives, or artificial colouring or flavouring.
Our product range also includes organic gluten-free biscuits, VEGAN products, biscuits for children 1+ year and FREE-FROM all alergens products.
66000
Comestibles
Other
Espana
Otros comestibles
2019-01-29
2018-01-18

Descripción

: Somos un pequeño negocio familiar y no una gran empresa. Nos dedicamos a la venta y distribución de todo tipo de productos procedentes de cultivos ecológicos y de nuestro País. Nuestro deseo es ofrecer productos de alta calidad con un servicio adecuado para cada cliente.

Puede comprar a través de nuestra tienda virtual o puede pasarse por nuestro almacén y beneficiarse de nuestros descuentos especiales. También disponemos de reparto a domicilio. Si tiene tienda no dude en solicitar nuestros precios de tienda y su etiquetado personalizado.

Productos


Aceites
Arroces
Bebidas vegetales
Cereales y derivados
Complementos Naturales
Conservas
Copos y desayunos
Fruta y Verdura
Frutos Secos
Harinas
Infusiones
Legumbres
Miel y edulcorantes
Pan y repostería
Pasta
Sal artesanal
Salsas
Semillas
Siropes
Snacks
Vinagres
Yerba Mate
67564
Comestibles
Other
Paises Bajos
Otros comestibles
2019-12-01
2017-12-11

Descripción

: Our organic potato chips are produced in a traditional way in a small family business. we use selected potatoes, grown in fertile organic land. We fry them in organic sunflower oil ( 100% non hydrogenated) which is very rich in the important polysaturated linolic acid. Since our production week is tailored to the needs, we can provide crisp fresh chips!

The cultivation of our raw materials, our production and the finished product are regularly monitored by Control Union, approved according to the EC legislation.


We produce over three hundred certified organic products that are mainly sold in health
food stores over 26 countries.
66483
Comestibles
Other
Alemania
Pastas
2019-02-15
2017-10-10

Descripción

: Spaghetti made from organic white Spelt without egg
Laminated Spaghetti / Spaghetti alla chitarra
Long U-shape

Packaging: 500g, 250g
82271
Comestibles
Bcs-oko Garantie Gmbh
Alemania
Pastas
2019-02-02
2017-10-10

Descripción

: Whole Spelt Pasta
Shapes:
Fusilli, Penne, Spaghetti, Tagliatelle,
Capellini, Farfalle

Packaging: 5kg, 2,5kg, 500g, 375g, 250g
82272
Comestibles
Bcs-oko Garantie Gmbh
Alemania
Pastas
2019-02-10
2017-10-10

Descripción

: White Spelt Pasta
Shapes
Fusilli, Penne, Spaghetti, Tagliatelle,
Capellini, Farfalle
57079
Comestibles
Control Union
La India
Otros comestibles
2019-02-27
2017-10-04

Descripción

: Curry Powder
Steak Seasoning
BBQ Seasoning
Chicken Masala
Pilav Seasoning
Cajun Seasoning
Fajita Seasoning
59951
Comestibles
Other
Suiza
Otros comestibles
2019-03-27
2017-09-19

Descripción

: We supply stores and private clients with high quality organic (bio) products such as: Agave's honey, agave's inuline and chia and amaranth seeds, organic and fairetrade teas, organic milks made of almond, bio energy drinks (with no preservativs, no artificial colours, no artificial aromas), organic vegetable drinks (quinoa, oats, rice, soja).