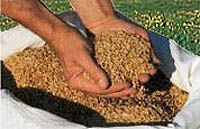 Buy organic Seeds
Offers to sell
To obtain the company's identification, click on the offer number.
Offer N°
Category
Certification
Origin
Product
Validity
Date offer
75866
Seeds
Other
Great Britain (UK)
Other Seeds
2019-06-23
2017-11-17

Description

: We can offer premium quality Sunflower Seeds, as well as Pumpkin Seeds, Sesame Seeds and Golden Linseed. NEW PRODUCT: Sweet Apricot Kernels.
82273
Seeds
Other
United Kingdom
Bulk seeds
2019-02-10
2017-10-10

Description

: walnuts
88775
Seeds
Other
Cameroon
Bulk seeds
2020-11-16
2016-11-13

Description

: Picralima Nitida is a seed used in African herbal medicine primarily as a pain reliever.  Known as akuamma, the seed contains the alkaloids, akuammine and pericine as well as a number of related minor alkaloids.  Aside from analgesia,  picralima nitida seeds are also used as an anti-inflammatory, a skeletal muscle relaxant  and an anti-diarrheal. Akuammine is an indole alkaloid that is structurally related to yohimbine and mitragynine.  Akuammine is soluble in ethanol. Traditionally akuamma seeds were powdered and taken orally. But given the extremely bitter nature of the seeds, it is not surprising that pharmaceutical makers in Africa isolated the active compounds to produce capsules sold under the name Picap. The seeds are said to contain about 3.5%-4.8% akuammine.


 We offer dried and powder akuamma seed  from Africa. Please kindly let us know if you are interested in our product.