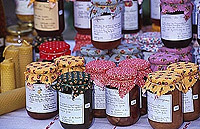 Find sellers of organic Commodities
The Greentrade Directory
Click on the offer number to view the company's information.
To obtain the company's e-mail addresses you need to subscribe our services or please contact us at Tel.: +33 1 47 50 02 73
Fax : 33 1 47 50 28 67
Offer N°
Category
Certification
Product
6824
Commodities
Associazione Italiana Per L'agricoltura Biologica
Cocoa, chocolate

Description

: SNACK OF CHOCOLATE WITH PUFFED CEREALS 100% ORGANIC
6804
Commodities
Qc & L. - Gesellschaft Für Kontrolle Und Zertifzierung Von Qualitätssicherungsstystemen Gmbh
Sugar

Description

: Sugar
6798
Commodities
Other
Tea

Description

: Organic High Grown Himalayan Orthodox Tea
6592
Commodities
Bcs-oko Garantie Gmbh
Cocoa, chocolate

Description

: Organic Cocoa powder, liquor and butter
6224
Commodities
Ecocert
Tea

Description

: Ruikang Organic Tea Farm is located in one of the four China tea production areas, with a total area of 1350 hectares and an annual turnout of 300 tons of various organic teas. Ruikang tea gardens are scattered along the mountain slopes at the altitude from 700 meters to 1500 meters, which is ideal for tea growing. The abundant rainfall and mild weather, densely forested mountains, finely selected tea species, excellent natural environment, and skilled tea processing all contribute to the exquisite quality of Ruikang Organic Tea.