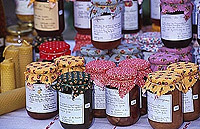 Buy organic Grocery products
Offers to sell
To obtain the company's identification, click on the offer number.
Offer N°
Category
Certification
Origin
Product
Validity
Date offer
82272
Grocery products
Bcs-oko Garantie Gmbh
Germany
Pasta
2019-02-10
2017-10-10

Description

: White Spelt Pasta
Shapes
Fusilli, Penne, Spaghetti, Tagliatelle,
Capellini, Farfalle
57079
Grocery products
Control Union
India
Other grocery products
2019-02-27
2017-10-04

Description

: Curry Powder
Steak Seasoning
BBQ Seasoning
Chicken Masala
Pilav Seasoning
Cajun Seasoning
Fajita Seasoning
59951
Grocery products
Other
Switzerland
Other grocery products
2019-03-27
2017-09-19

Description

: We supply stores and private clients with high quality organic (bio) products such as: Agave's honey, agave's inuline and chia and amaranth seeds, organic and fairetrade teas, organic milks made of almond, bio energy drinks (with no preservativs, no artificial colours, no artificial aromas), organic vegetable drinks (quinoa, oats, rice, soja).
92349
Grocery products
Bcs-oko Garantie Gmbh
China
Soy and soy derivatives (seeds, sprouts, sauces, d
2019-09-12
2017-09-12

Description

: Product: Organic Shoyu Sauce
Certificates: EU/NOP /BIO SUISSE

Quality parameters
Odour: Fragrance, typical for Shoyu
Color: Henna
Taste: Fresh salty, typical for Shoyu
Purity: 100%

Microorganism content
Aerobic plate count(cfu/g): <3000
Salmonella sp.(cfu/25g): Not detectable in 25g
Yeast: < 100 cfu/g
Mould: < 100 cfu/g
3-MCPD: Not detectable
90443
Grocery products
Other
Turkey
Spreads and pastes
2019-12-12
2017-03-30

Description

: Gluten Free Carob Spread


Carob spread will be indispensable for your breakfast! Besides 100% natural content; gluten-free and sugar-free carob spread is very tasty and healthy.
It does not contain any preservatives, sweeteners, additives. Rich in minerals and vitamins; locust bean is rich in calcium and contains vitamins A, B, E and zinc, phosphorus.
Carob spread, which is good for asthmatics and shortness of breath, can be eaten with spoon, and can be spread on bread.



Ingredients:
Carob Nectar and Carob Powder 80%, Vegetable Oil(Olive), Peanut, Milk, Natural Flavor(Vanilla)

Gluten Free, No added Sugar.
Does not contain sweetener, preservative and additive.
89849
Grocery products
Ceres
China
Pasta
2019-06-10
2017-02-21

Description

: Organic pastas and noodles made from beans.
78410
Grocery products
Ecocert
Morocco
Spreads and pastes
2019-12-12
2017-01-09

Description

: Pate à tartiner Marocaine (mélange amande, miel et huile d'argan)
78584
Grocery products
Other
Canada
Other grocery products
2018-01-29
2016-12-12

Description

: Organic Cinnamon
Other Common Names: Ceylon Cinnamon

Spice Sanctuary Grade: Cinnamom Zeylanicum species, Hand harvested

Tasting Notes: Sweeter, lighter and less woody than Cassia versions

Recommended Spice Pairing: Cardamom Ground Seeds, Cloves, Ginger Powder, Nutmeg Ground, Red Chili/Cayenne, Moroccan Harmony Spice Blend, Sweet Delight Spice Blend

Use Everyday In: breakfast dishes, cooked fruits and jams, smoothies, coffee, tea, chocolate, desserts, baking, curries, root vegetable soups, chicken and pork dishes.
49932
Grocery products
Other
Germany
Muesli, flakes
2018-12-12
2016-12-12

Description

: organic breakfast cereals
THE FRUITY ONES
Tasty, fluffy, fruity - with extra large fluffy Krunchy clusters. In two varieties: Barnhouse Krunchy strawberry and cranberry-cherry. 100% organic!
78866
Grocery products
Other
France
Other grocery products
2018-12-12
2016-11-21

Description

: Organic grocery products gluten free
58831
Grocery products
Other
Germany
Other grocery products
2018-12-07
2016-11-07

Description

: Barnhouse produces over 20 different varieties of organic crunchy cereals. From our basic oat crunchy without refined sugar to our exclusive breakfast mix with cranberries or strawberries.
Your Krunchy-World
From the delivery of the whole meal or wholegrain oats to the final production of the crispy muesli/cereal everything takes place under one roof. Follow us on a short tour through the Barnhouse Krunchy World.
51261
Grocery products
Other
Germany
Baby foods
2018-07-22
2016-11-07

Description

: Certified organic products for babies
70141
Grocery products
Other
USA
Other grocery products
2018-02-23
2016-11-07

Description

: All of our Organic Food Products are certified organic and free from GMO material. We offer the following organic products which are also available in private label. Grocery Items - Jam, Peanut Butter, Soup Snack Items - Microwave Popcorn, Bulk Popcorn Dairy Items - Cheese, Milk, Butter, Cream Cheese, Sour Cream, Ice Cream Bakery Items - Cake Mixes, Bread Mixes, Cookie Mixes, Brownie Mixes
88122
Grocery products
Other
Australia
Other grocery products
2018-01-01
2016-09-19

Description

: Organic foods and food supplements
87520
Grocery products
Other
Estonia
Other grocery products
2019-02-02
2016-08-18

Description

: Our dried organic Estonian apples are nice and crunchy, earning them the nickname Crunchies.