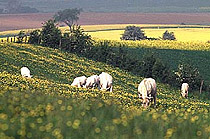 Who Are We?
It all began with a simple idea: to create a resource centre that would unite all players of the "organic" sector, while contributing to the development of Organic Agriculture.
> Where vendors and buyers would have access to the world's largest database of the industry,
>Where the latest offers on certified products would be available at all times,
>Where commercial relationships would be optimised,
>Where users could find technical and marketing professional documentation,
>Where technical questions would be answered by the greatest experts in the field,


Since economic reflexes change rapidly, and Internet has turned to be an essential tool, for a very low costwww.greentrade.net offers you the required tools for your development.

Given it is totally independent,www.greentrade.net is capable of meeting your needs with an impartial and objective standpoint.


Our Team:

Nadia TARRIEU, Founder.

Trade Shows Manager
A specialist in professional trade shows and more than 11 years of experience in the organic food industry.


Martine COSSERAT, Expert consultant in organic biology.

Former Head chief in charge of company controls of a certifying authority. Professional experience in:

- field global approach, agricultural production improvement, environment protection and sustainable development, technical specifications and their control, and their link to field work. For more information : Greentrade



Guy HERGOTT, Administrative and Financial Director.

Management control for over 12 years.