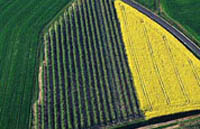 buy_x
Ofertas de venta
Para obtener la identificación de la empresa, haga clic sobre el número de la oferta
Oferta n°
Categoría
Certificación
País de origen
Producto
Validez de la oferta
Fecha de actualización
65264
Productos de cultivo - intrans
Other
Rusia
Fertilizantes , abono
0000-00-00
2012-06-05

Descripción

: 'Phytop 8.67' is a highly-effective biological preparation for organic farming with fungicide, antistress and antidepressant properties. (According to the EU Regulation (EC) # 889/2008 (art.3, part 4)

'Phytop 8.67' contains the strains of spore-forming bacteria of Bacillus subtilis and Bacillus amyloliquefaciens cultures, selected from the ecologically clean regions of Siberia.Bacteria are deposited in the Deutsche Sammlung von Microorganismen und Zellkulturen Gmbh European collection of microorganisms and cell cultures.

The benefits of 'Phytop 8.67':

- improves seeds germinative energy and seed germination;
- boosts growth and root development;
- helps accumulate nitrogen and phosphorus in soil;
- regulates soil microbial flora;
- enhances plant stability against unfavorable environment factors, such as freezing, dry seasons, etc.;
- increases crop yields on 20-30%;
- protect plants from phytopathogens;
- improves the capacity for survival during transportation and storage;
- suppress the growth of phytopathogens and reduces the content of opportunistic - - pathogenic, pathogenic and putrefactive microflora in soil;
- removes stress after chemical application;
- cost-effective.
65205
Productos de cultivo - intrans
Other
La India
Fertilizantes , abono
2014-12-12
2012-05-31

Descripción

: Prathista products are listed in OMRI (ORGANIC MATERIAL REVIEW INSTITUTE), USA (click to view certificates) as crop nutrients for meeting Nutrient deficiency as per USDA-NOP standards and European Union Standards.

Prathista signed long term MoUs with INDOCERT (www.indocert.com) & Foundation for Organic Agriculture & Rural Development Organizations (www.organicfoundation.in) to develop Organic Agriculture in India & also in International markets, which facilitates certification of land as well as crop production.

Prathista launched unique Chelated Minerals based on Proteinates, Lacto-Gluconates, Glycinates, which are complementary to existing feed supplement Formulations.

Prathista has opened Office in ALMERE, Netherlands in Joint Collaboration with Quavac BV to market Prathista unique Agri in-puts, Chelated Minerals, Organic acids & Other feed supplements in Netherlands and also in entire European markets. Prathista will subsequently establish state of the art fermentation (BIO TECHNOLOGY) based manufacturing facilities to cater the needs of European markets as Joint Venture to produce all these Eco-friendly products.
Prathista Farmers Welfare Foundation (a Non profit Organization) is established to service poor farmers (*click for details)
Prathista received National awards from her Excellency The President of India - "First prize for R&D efforts" & "Second prize for out standing performance" (* for pictures) through MSME, Govt of India.

Innovative BYPASS FAT is now available for Veterinary & Live stock segments for enhancing Live stock Health and also quality of Milk & Live stock (*click for details)
KVSS SAIRAM-PRESIDENT has received Third International Award - "Asia Pacific Gold Star Award" from Global Achivers Foundation during International conference of Indo-Middle East Friendship Summit held in Dubai on 18th November 2011.(* view picture for details)
CHAIRMAN-KVSS SAIRAM received fellowship award from Association of Bio Technology & Pharmacy during International symposium held at Karunya University at Coimbatore.(*view for picture)
Prathista participating in International Exposition being held at Jaffna, Sri Lanka during 20-22nd January 2012. Please witness our innovations in our stall No. 79.
Prathista International Inc proposals were approved by Honorable Commissioners for City of Manhattan to provide need based incentives for R&D establishment in USA and suitable Agreement is already signed with City Major after clearance from second Public Hearing meeting held on 20th December 2011.
Prathista has taken over "Haryana Bio Tech Private Limited" near Sohana Industrial Area in Haryana to establish state of the art Research Base in North India along with Formulation Unit as a Joint Venture with NRIs with American Technology.
KVSS SAIRAM-PRESIDENT received All India Economy Survey Award Council honor as "Shining Image on India" (media partner – AAJ TAK) - 2011 for his Outstanding Achievements & Distinguished Services to the Nation.
64629
Productos de cultivo - intrans
Other
E.E.U.U.
Fertilizantes , abono
2013-04-29
2012-04-18

Descripción

: Sustane high performance, dry granular, aerobic compost based organic fertilizers available in several NPK analysis: 3-7-4, 4-6-4, 5-2-4, 8-2-4, 8-4-4. Available in two particle sizes (1 mm and 2 mm); in weather-resistant 22.67 kg. bags, sold by the metric tonne. Shipped worldwide to over 60 nations. USDA NOP Complinat. Visit www.sustane.com
64294
Productos de cultivo - intrans
Bcs-oko Garantie Gmbh
La India
Fertilizantes , abono
2012-12-31
2012-03-30

Descripción

: Certified foliar Fertilizers based on Amino Acids obtained by enzymic hydrolysis of Soyabean(NON GMO) for organic farming.
64291
Productos de cultivo - intrans
Other
Egipto
Fertilizantes , abono
2014-01-01
2012-03-29

Descripción

: LIBRA was founded in 1988. Since 2010, LIBRA concentrates its operations on cattle management and leaves all its former agricultural activities to SEKEM for Land Reclamation.The company produces milk, eggs, meat, fodder and began producing compost under the name of Soil & More compost in May 2007. Altogether, LIBRA has five different products. All products serve solely as raw materials for the other SEKEM companies, which process them - except for compost and the related carbon credits, which are sold and traded on the open market.



In SEKEM's Demeter based understanding of farm and cattle management, animals are not only raised in ways appropriate to the species, but also with the physical requirements of their natural development. The cattle lives in an open space covered by a shade roof. Cattle nutrition consists of maize-silage, clover, straw, fodder beat and orange zests. The sheep nutrition consists of silage and regularly grazing. For the chickens, no antibiotics are used in the entire management and treatment of the chickens. Their nutrition consists of maize and soya silage and greens. In average, seven chickens live on one m2 indoor and additionally they have access to a free chicken run outside.
64235
Productos de cultivo - intrans
Other
Guadeloupe (Fr.)
Fertilizantes , abono
2013-02-10
2012-03-27

Descripción

: Le « BATGUANO» désigne le guano de chauves souris.
Le BATGUANO est un engrais qui peut être utilisé sur toutes les cultures, mais sa flore microbienne d'une grande richesse en fait un agent indispensable dans la restauration de la fertilité naturelle des sols.
Entièrement biologique, il présente une forte teneur en nutriments et en matières organiques ce qui en fait un fertilisant complet, puissant, écologique et économique.
Contrairement aux guanos d'autre volatiles, le BATGUANO n'a pas d'odeur.
Le BATGUANO se présente sous forme d'une fine poudre homogène (particules de moins de 3 millimètres).
Il est conditionné en Big Bag de 750 Kg, ou sacs de 25 Kg et se vend par unité de container 20' et 40'.
63897
Productos de cultivo - intrans
Other
E.E.U.U.
Fertilizantes , abono
2012-06-30
2012-03-06

Descripción

: Description: Earthworm Castings Highly Pure Organic Fertilizer

Product name: Peaty's – a highly stable black peat humus and organic meal growth medium fed to worms that result in high quality, highly pure earthworm castings fertilizer. This product is listed by the Organic Material Review Institute (OMRI) as 'unrestricted use' and under the U.S. National Organic Program. It is safe around kids, pets, and crops and has the unique property of retaining up to 140% of its weight in water. Will supply 25 metric tons per month in 2012, up to 250 metric tons per month in 2014.

Properties: Peaty's Organic Fertilizer
Excellent medium for plant growth
High moisture retention
Improves physical & biological condition of soil
Improves aeration
Reduces frequency of irrigation
Enhances strong and healthy root system
Contains natural enzymes and plant nutrients
Stimulates the production of phytohormones.

Composition:
Nitrogen: 1.6-2%
Phosphoric Acid .11%
Potassium .10%
Organic carbon 26%
Calcium 1.7%
Magnesium .22%
Sulfate .13%
Iron 1.1%
Moisture content 50%
pH 4.89
63977
Productos de cultivo - intrans
Other
La India
Fertilizantes , abono
2014-02-10
2012-03-06

Descripción

: We are the largest producer of organic fertilizers in India
Vermicompost plus is the organic manure made by cowdung,organic waste,husk and the most essential thing that is Earthworms
Species of Earthworms is Esiana Fatida
63610
Productos de cultivo - intrans
Other
Estonia
Fertilizantes , abono
2013-01-01
2012-02-02

Descripción

: RUPONICS is a natural complex of ecologically pure and safe nutrients, humic and growth-promoting substances.

RUPONICS has a beneficial effect on growth, metabolism and photosynthesis and increases yields of agricultural crops. The fertilizer contains all vermicompost components in solution: humates, fulvic acids, amino acids, vitamins, natural phytoharmones, micro- and macro-elements, and spores of soil microorganisms. The fertilizer possesses bactericidal properties due to bacteriostatic protein secreted by earthworm body tissue as well as antibiotics secreted by symbiotic microorganisms in the earthworm gut in the process of vermicultivation.

RUPONICS is used to produce high quality and ecologically pure agricultural crops and to reduce storage losses.
63507
Productos de cultivo - intrans
Ceres
Bulgaria
Fertilizantes , abono
2012-12-31
2012-01-20

Descripción

: Physico-chemical and biological analysis Certificated BG-BIO-04
dry matter/ >25%
humidity/ >45% - 60%
organic matter/ >55
pH 7-8,5
total N, on dry matter base/ <2%
total C/ 20 - 27
waterable N-NH4 natural humidity/<2 %/mg/kg
63511
Productos de cultivo - intrans
Ceres
Bulgaria
Fertilizantes , abono
2013-01-20
2012-01-20

Descripción

: EKO- BG Ldt. was established in 2007. Main activities are production of organic fertilizer by processing manure from cattle in worm composting technology and wholesale trade of red Californian worm /Eisenia Foetida/ in propagating material.
EKO – BG Ltd is one of the founders of the Association Agro Bio World I 2010, uniting 30 farms from Bulgaria and associated members from Latvia "Latvijas Slieku audz?t?ju asoci?cija" Turkey and AC Grup Ltd.
EKO-BG has sales on the Bulgarian market for farmers who produce organic products. We also sell propagating material throughout the country. The export of organic manure and planting material is through the association. EKO –BG Ltd. has a contract with AC Grup Ltd. Turkey for exclusive representation in Turkey and the Middle East for organic fertilizer / Biohumus /. The company is certified from CERES in Reg. EC 834/2007 (resp. EU) NOP and JAS.
Annual production of the farm is more than 10 000 cubic meters of organic fertilizer,according to preliminary contracts with members of the association.
63497
Productos de cultivo - intrans
Ceres
Turquia
Fertilizantes , abono
2014-11-21
2012-01-18

Descripción

: microbakterial fertilizer varieties to root-thriving, stem stabilization, increasing the number of flowers and increase in efficiency
63492
Productos de cultivo - intrans
Other
La India
Fertilizantes , abono
2012-06-04
2012-01-18

Descripción

: We have supply different types of organic fertilizers like BHUMILABH, NEEMSHAKTI, PHOSPHOGREEN etc for the proper distribution & utilization in the farmers field specially in the North-Eastern region.
63104
Productos de cultivo - intrans
Ceres
Turquia
Fertilizantes , abono
2012-12-29
2011-12-04

Descripción

: microbacterial organic fertilizer
62932
Productos de cultivo - intrans
Sohiscert Sa
Espana
Fertilizantes , abono
2012-07-07
2011-11-15

Descripción

: 100 % extracto de algas marinas Ascophyllum nodosum. Líquido formulado para aplicar por via foliar o via riego. Fortalece las plantas aportando todas las sustancias beneficiosas de las algas.