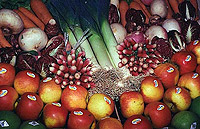 Buy organic Fruit & vegetables
Offers to sell
To obtain the company's identification, click on the offer number.
Offer N°
Category
Certification
Origin
Product
Validity
Date offer
67563
Fruit & vegetables
Other
Israel
Other fruit & vegetables
2020-02-02
2019-10-10

Description

: We are offering Organic Cluster Tomatoes, Organic Cherry Tomatoes on the Vine, Organic Peppers and Bell Peppers and much more special fresh vegetables, citrus and fruit.
98257
Fruit & vegetables
Other
China
Dried fruit
2021-01-20
2019-10-01

Description

: Dried jujube fruit nutritional benefits

Jujube may not have a large amount of any one nutrient, jujubes contain a wide array of different ones, including magnesium, potassium, copper, niacin, calcium, manganese, phosphorus, and iron. They contain 20 times more vitamin C than any citrus fruit, strengthening the immune system and fighting infections, which may be why they've been used medicinally for millennia in many cultures, as a tea for sore throat, for example.
98253
Fruit & vegetables
Other
France
Fresh vegetables
2021-01-01
2019-10-01

Description

: Vente de Kiwis, Clémentines, Oranges, Noisettes, Pomelos de Corse. Bio et Conventionnel. Tous nos produits viennent de nos producteurs corses.
78415
Fruit & vegetables
Agrobio
Uzbekistan
Dried fruit
2020-01-29
2019-09-25

Description

: There are Almonds, raisins, nuts, apricots in our dried fruit. They are very deliciously,fresh and quality.
57655
Fruit & vegetables
Bcs-oko Garantie Gmbh
China
Frozen fruit or vegetables
2021-07-10
2019-09-12

Description

: We are able to provide the following Dehydrated , Air Dried, Freeze Dried Fruits and Vegetables

Organic AD/FD Vegetables
Organic Dried Asparagus
Organic Dried Bell Pepper – Green/Red
Organic Dried Broccoli
Organic Dried Carrot
Organic Dried Cauliflower
Organic Dried Corn
Organic Dried Garlic
Organic Dried Ginger
Organic Dried Green Beans
Organic Dried Onion
Organic Dried Peas
Organic Dried Spinach

Organic AD/FD Fruits
Organic Dried Apple
Organic Dried Blackberry
Organic Dried Passion fruit
Organic Dried Pear
Organic Dried Raspberry
Organic Dried Strawberry
Organic Dried Wolfberry (Gojiberry)
64597
Fruit & vegetables
Other
Netherlands
Fresh fruit
2022-12-31
2019-09-12

Description

: OTC-Holland distributes a full line of organic fruit and vegetables. Organic Trade Company Holland B.V. emphasizes short communication lines between grower, OTC-Holland and customer. This enables OTC-Holland to maximize efficiency and results for all parties involved in the supply chain.
61120
Fruit & vegetables
Control Union
Perou
Fruits purees
2020-12-30
2019-09-12

Description

: COMINPER S.A.C. is a Peruvian exporter company that supplies a broad range of foodstuffs and natural products (conventional and organic certified) for direct consumption and raw materials for pharmaceutical, cosmetic and food industries, including 100% NATURAL FROZEN FRUIT PULPS.
66002
Fruit & vegetables
Other
Netherlands
Fresh fruit
2020-06-01
2019-09-12

Description

: Tomatoes, Peppers, Cucumbers, Egg plants, Potatoes, Brown Onions, Red Onions, Carrots, Leek, Fennel, all sorts of Cabbage, Broccoli, All kinds of Lettuce, Endivie etc
77229
Fruit & vegetables
Comité Andaluz De Agricultura Ecologica (caae)
Spain
Other fruit & vegetables
2020-12-20
2019-09-12

Description

: FRUTAS TROPICALES RECIEN RECOLECTADAS. EN UN PLAZO MAXIMO DE 5 DIAS ESTARAN DESDE SU RECOLECCION AL CONSUMIDOR. GARANTIZANDO LA CALIDAD Y FRESCURA DEL PRODUCTO FINAL.
98052
Fruit & vegetables
Certiplanet, Certificao Da Agricultura
Portugal
Exotic fruit and vegetables
2020-02-02
2019-08-13

Description

: We sell fresh yacon
79865
Fruit & vegetables
Bioagricert (bac)
Italy
Fresh vegetables
2021-04-15
2019-08-13

Description

: Over 60 hectars of directly managed and harvested fields, totally dedicated to organic vegetables and herbs. A packaging firm for packing in different sizes. Customizable labelling. Company certifications Bioagricert, Bio Suisse, IFS, Global GAP.
62396
Fruit & vegetables
Ecocert
South Africa
Dried fruit
2021-12-15
2019-08-13

Description

: The quality of Roux Pecan kernel is the same. No compromise is allowed.

We have done the work for you in preparing the kernels so that they are "Ready to Use", packaged in 5kg blocks, two per box.

Special Reserve Pecan Halves:

Hand selected perfect pecan halves are Roux Pecans most sought after selection. This selection is special in that we take extra time and effort in selecting this premium grade. These are completely unblemished pecans that epitomize the high standard of pecan that make them extremely popular with all clients from chocolatiers in London to the most discerning private individual.
79619
Fruit & vegetables
Other
Thailand
Other fruit & vegetables
2020-02-02
2019-08-13

Description

: We, group of farmers, gather in the name Organic Development Center for Internal Standards in order to produce organic materials with international organic standards to meet the needs of entrepreneurs.

Our group aims to create organic standard materials such as rice, vegetables, fruits, herbs, covering all areas in Thailand. Currently, our main area is the northern and central parts of Thailand, which is known as watershed and prosperous area for planting as well.

• Our main materials
1. Grains, such as Jasmine rice, red rice, brown rice, Berry rice, Sinlek rice,Sang Yod
(trader can own sources and Contract Farming)
2. Vegetables
3. Herbs
4. Fruits
**Under international organic standards that customers identify (IFOAM, EU, USDA, JAS)**
70031
Fruit & vegetables
Other
Thailand
Exotic fruit and vegetables
2021-05-04
2019-08-13

Description

: Merit Food Products (MFP) was established in 1993 as a leading manufacturer and exporter of high-quality canned coconut products. The company history was originated from an enterprise with more than three decades of experience in Thai coconut business. MFP's product line majorly covers coconut milk and cream, coconut drinks, which has already been certified as "GMO-free" from DNA Technology Laboratory, BIOTEC, Thailand.We would like to offer: -Certified organic coconut milk with various fat contents i.e. 21%, 18%, 15%, 12% and 6% in various sizes i.e. 160ml, 400ml, 300ml and 18.5kg. 18.5kg.
80719
Fruit & vegetables
Other
Ukraine
Fresh vegetables
2021-12-10
2019-08-13

Description

: We offer organic potato, carrot, pumpkin
Products will be available on Summer 2015.