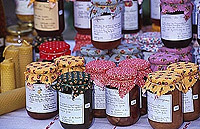 Buy organic Commodities
Offers to sell
To obtain the company's identification, click on the offer number.
Offer N°
Category
Certification
Origin
Product
Validity
Date offer
84102
Commodities
Other
Ghana
Coffee & substitutes
2019-02-02
2018-12-12

Description

: WE HAVE GROW ORGANIC HOT PEPPER KNOWN AS AFRICAN BIRD EYES AND THIS IS WHAT WE HAVE TURNED INTO ORGANIC POWDERED HOT PEPPER SPICES READY FOR EXPORT. WE COULD SEND YOU SAMPLE FOR YOU TO SEE.WE ARE VERY READY TO TRADE WITH ONLY SERIOUS
96462
Commodities
Ecocert
Ivory Coast
Cocoa, chocolate
0000-00-00
2018-10-30

Description

: feves de cacao bio .
la feves de cacao est le produit essentiel a la fabrication du chocolat.
la demande mondiale de chocolat etant en hausse permanente les principales offres de feves sont issues de l'agricultures intensives avec utilisitions massives d'intrants chimique.
notre cooperative se propose de mettre sur le marche des feves de cacao,cafe cajou bio .nous produisons sans apport d'intrant chimique,avec un accent particulier sur la protection du couvert forestier.

pour les informations complementaires merci de nous contacter au +225 07326218
62839
Commodities
Other
Canada
Sugar
2020-07-20
2018-10-08

Description

: Organic Extra Light Sugar and Organic Golden Light Sugar
67233
Commodities
Other
Brazil
Sugar
2019-01-20
2018-05-15

Description

: Organic Sugar
82677
Commodities
Other
Perou
Coffee & substitutes
2019-02-15
2018-03-28

Description

: -Cafe arabica
-Café Organico ( bio )
-Café Robusta
82687
Commodities
Other
Iran
Tea
2020-02-10
2018-02-22

Description

: 100% Organic Black Tea,
We don't just make organic tea, we grow them, we enjoy them and we cherish them.

Mixes with Organic Rose petals available upon your request,
We can provide it in Bulk quantities as well as with your own private label,

Drink with us.
83201
Commodities
Other
Colombia
Coffee & substitutes
2019-02-15
2018-01-23

Description

: cafe organico
71862
Commodities
Other
Madagascar
Sugar
2020-11-02
2018-01-23

Description

: Sucre biologique et complet.
Aucune transformation.


Produit équitable, certifié ECOCERT.
67756
Commodities
Other
Mexico
Coffee & substitutes
2019-06-30
2018-01-18

Description

: Green coffee
Certifications
FLO
OCIA
IMO
Naturland
Origen Chiapas

Arabica from Chiapas, 1200m above see level
European quality
American quality
"Prima lavado"
64237
Commodities
Other
India
Sugar
2019-02-23
2018-01-10

Description

: Organic raw Cane Sugar
93881
Commodities
Other
France
Coffee & substitutes
2019-01-01
2017-12-11

Description

: Distributeur de café colombien
93634
Commodities
Other
Perou
Cocoa, chocolate
2019-12-12
2017-11-21

Description

: We are a real Bin to Bar company producing chocolate Bars from diferent Origins.
Organic and Bio
79824
Commodities
Naturand Verband Für Naturgemässen Landbau E.v.
India
Coffee & substitutes
2019-02-28
2017-11-06

Description

: organic and fairtrade certified

arabica
robusta

cherry and parchment
plantation
92164
Commodities
Other
Myanmar
Coffee & substitutes
2019-05-05
2017-08-25

Description

: Karen coffee is nature product from Karen state of Myanmar. It is naturally grown on the deep slopes of mountain preserving rain forest and soil. Robusta is mainly grown and Arabica is grown very few percentage in this area. Karen coffee is farmed, roasted and grinded by the ethnic women group in the area and Sabanan makes packaging in Yangon as value add. It is the part of women empowerment program and support livelihood of Karen women in the area. Some percentage of net profit from Karen coffee will be shared to those women group for their empowerment program. This product will help over 20,000 peoples from 30 villiages of Than Daung Gyi villiage track area, Karen State, Union of Myanmar. Sabanan provide Green label for Robusta and Red label for Arabica. Coarse ground and Fine ground coffee are available for 100 g and 200g. Green bean for Export market. If you have interest to support ethnic women or to get natural organic products, please feel free to contact us
92114
Commodities
Other
Perou
Coffee & substitutes
2019-01-01
2017-08-17

Description

: Nous vendons du café Arabica certifié bio et commerce équitable, directement de l ágriculteur, sélectionné á 14 défauts, avec un rendement sur tasse de 84 á plus .

Nous avons une capacité de production pour justifier une demande abondante.

De même, nous vendons du café frais torrefié sur place traditionnellement pour différentes types de cafetiéres, pour boutiques spécialisées petit agriculteur, artisanale et cafétéria. Produit de marketing .